At the beginning of each year, I travel the country giving inspirational kickoff speeches in call centers. This year, the theme of my speech is creating "connections" with our customers and our teams. What better way to reinforce connections, than to include everyone in the speech writing?
Word Cloud Crowd Sourcing
While preparing the speech, I sent a note to over 100 leaders on site in the centers asking them to answer 2 quick questions.
The best way for reps to connect with customers is ______________.
The best way for leaders to connect with their teams is ______________.
I built the speech around their responses. Now as I travel to each event, we give every rep, leader and support staff a paper heart, and ask them to write down their secret to making connections. I incorporate some of their thinking into the speech real-time. We then collect all the hearts. We create a customized word cloud for that center which we will turn into a framed poster as a reminder of the message and their commitment.
Word Cloud Resume Review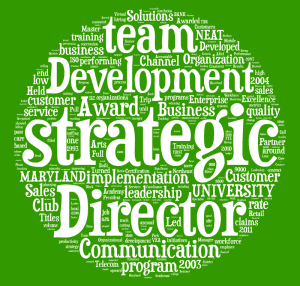 At one of these events, one of my leaders and I were neck-deep in hearts, when he had an idea. What would it look like if we cloud-sourced a resume? Would the right words pop? Brilliant. I flew home and tried it that evening. Try it on your resume. Here's how.
I used Tagul (it's free). Copy the text from the resume and put it in the text box. Filter out common words (just pick your language and it will sort out all the words like "and" and "the." I also took out the name of my employer so I could share it here. If you like, pick a shape and color, and voila…. it took 2 minutes.
Word Cloud Message Check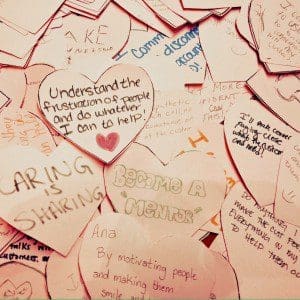 Word clouds are an easy way to check the content of a message. Anything's fair game to run through the tool.
You could check the last 5 emails to your boss (or your spouse). Your college-bound kids could use it to check their college essay (in fact, how cool would it be to include the visual). The possibilities are endless.
A Cloudy Afterword
Just loving all the word clouds shared in the comments. Thank you! Ali Anani played with the last 6 comments and my responses to the LGL community. See below…