It's hard to argue with Stephen Covey's 2nd habit "begin with the end in mind." Wise wisdom. But. Heads down, full steam ahead comes with risks.
Chartered courses without open minds lead to missed opportunity.
Sir Captain Don's Story
Last week I met Sir Captain Don Stewart on our vacation to Bonaire, in the Dutch Caribbean.
Was named one of the world's greatest explorers by Life Magazine
Was recognized with National Geographic Society's highest award
Was knighted
Led conservation movements and policy creation, including the elimination of spear fishing in Bonaire
Led the transformation of the Bonaire economy by creating a viable tourism industry
Made 25 expeditions to the Antarctic, and was recognized when a National geographic feature "the Walsh spur" was named after his contributions
Was appointed by Presidents Carter and Reagan to the U.S. National Advisory Committee on Oceans and Atmosphere
Was aboard the bathyscaphe Trieste when it made a record maximum descent into the Mariana Trench on January 23, 1960, the deepest point of the world's oceans
BUT before all that Don.
Didn't make it as a hollywood actor
Had his screenplay rejected
Survived cancer
Was broke
Patented a method that made it possible to fit screens into sliding glass doors
Developed a highly successful screening company
Floated the Mississippi on a raft
Taught himself to sail
Was a spear fisher
Collected exotic fish and sold them for aquariums
Sunk his sailboat
Captain Don began with an open mind. One thing led to another. His passion emerged. He shared that he was encouraged by a hollywood friend to, "live his script."
Begin with an Open Mind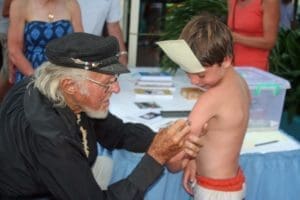 Don't get stopped by…
Good but not great
False starts
Success
Failures
Setbacks