Practical Approaches For a Better Boss Relationship
How do you support your boss without kissing up? In this article, I share five very practical approaches that will lead to a better relationship and less angst for both of you.
How to Build a Better Relationship With Your Boss-Without Kissing Up
I don't know your boss.
She may be great. He may be a pain in the neck. He may be supportive. She may be a real witch.
I've been that boss. I've had all those bosses.
My guess is your boss also…
wants you to succeed
is dealing with pressures you don't fully understand
sometimes feels overwhelmed
is trying to please a boss too
is working to balance work and family
wants to do the best she can
could use your help
There's the age-old advice "always make your boss look good." I find it also useful to make them feel good– reduce the stress by making their job a bit easier.
5 Ways To Support Your Boss
1. Sweat the small stuff
Do what you say you will, without reminding. Get ahead of deadlines. Administrative work is a drag, your boss has better things to do than to chase down your paperwork.
2. Communicate frequently in bulleted summaries
Leaders often suffer from information overload. They are often called upon to summarize complex issues on the fly, that's not when they want to go digging through emails. Resist the urge to cc and forward emails without a summary attached.
3. Uncover issues & address them
Your boss knows there are problems, shielding her from them will only make her nervous. Lift up the issues you are finding, along with the solutions to address them. She will sleep better knowing you are paying attention and are all over it.
4. Thank them for their help
Be honest and specific. Done well and privately this is not brown-nosing– it's feedback that can help him help you. As a side benefit, they will grow as a leader because they'll know what's working.
You get more of what you encourage and celebrate and less of what you ignore.
5. Document your accomplishments
This is not bragging, it's useful. Well-timed, detailed summaries help to support the performance management process.
See Also: How to Help Your Boss Give You a Better Performance Review
and… Avoid These Great Boss Mistakes
Like other good things in life, a great boss relationship, taken to extremes, can wreak havoc with your career. I've seen otherwise smart and talented people lose credibility by over-aligning with a great boss.
Be sure to diversify your relationship investments and avoid these common traps.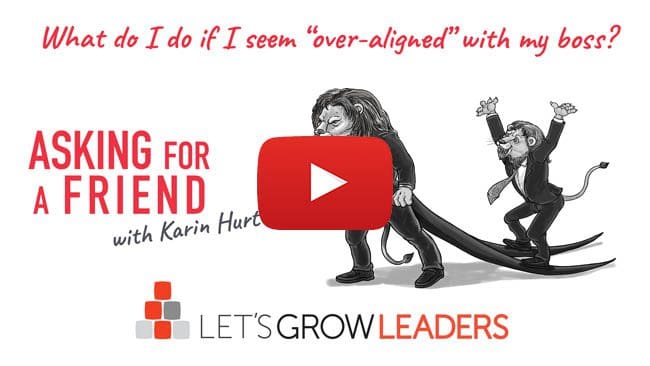 These five practical approaches are a great start to supporting your boss and helping them to help you.
Are you ready to accelerate team performance?
Increase communication, connection and trust while driving results. See our Team Accelerator Program page and sign up for the free demo to learn how.
Your turn. What would you add as #6?
See Also: Managing Your Boss: Get the Feedback You Need in 10 Minutes or Less (Includes Free Tool)
Managing Up: Keep Your Team Informed About a Struggling Team Member
Managing Up With Grace:  How to Give Your Boss Better Feedback (With Video)
Fast Company: Ten Common Excuses That Silently Damage Manager's Careers
Managerial Courage: 7 Practical Ways to be a Bit More Daring