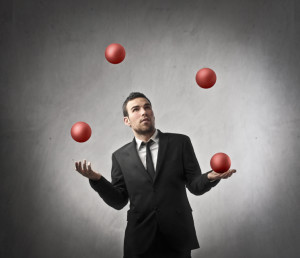 I texted my colleague, "do you think we BOTH need to attend the 3pm meeting?"  He quickly shot back, "Karin, I don't think ANYONE needs to go to that meeting…. don't worry, I'll represent both of us."
And there we were 2 executives, not speaking up in the spirit of being "politically correct, and "covering" for one another to minimize the pain.
After all, we had real work to do.
Sometimes, apparently, I'm also the instigator of such meetings.
I attended a meeting the other day and every person in the room was on their iPad working accept the speaker and I.  I stopped the meeting and questioned what appeared to be very rude behavior.
As I soon uncovered,  the rest of the participants had held a dry run of the meeting the day before I arrived in town.  Since I was "the boss" they wanted to "practice."   This entire meeting had turned into a readout for me.  Those meetings should have been consolidated, or the second meeting should have been cancelled, "Karin, we've got this."  Or at least become a one-on-one.  They did "have this" and didn't need me.   Pre-meetings are often a sign of wasted time.
Invest in knowing how much your team is preparing to meet with you. Even if you think you're low maintenance.
Despite my best efforts to change-up the meetings under my influence, I sometimes succumb, keep my mouth shut, and attend my fair share of time-wasters.  That's why when I received this note from a subscriber, I promised to write a blog response and schedule it up next.  I'll offer my best thinking and hand it over to the LGL village for additional suggestions.
"I just read your recent post, 5 Ways You're Sabotaging Teamwork, and was personally touched when you started talking about misuse of staff meetings.  It seems all I do is have "read-out" staff meetings and my staff hates them.  But, I like it because the team is together as a whole and they learn what each other is working on and it **does** stimulate great conversation.  However, they still hate them and, honestly, I hate them too.  I would love to hear your perspective on how to have high-energy staff meetings.  What are my alternatives?  What can I do to achieve my goal of getting my 12 member team together weekly but not be a boring mess? Continue Reading…