Welcome to the Let's Grow Leaders Frontline Festival on meetings that get results and that people want to attend. We asked thought leaders from around the world to share their very best post on this topic.
Thanks to Joy and Tom Guthrie of Vizwerx Group for the great pic and to all our contributors!
Next month's Frontline Festival is all about the art of the tough conversation. New contributors are always welcome. Submit your relevant blog posts here.
Preparing for Meetings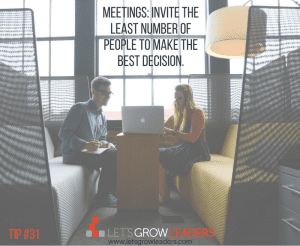 Skip Prichard of Leadership Insights provides Five Tips to Master Your Next Meeting. Meetings are often the source of many complaints, but also key to advancing a business agenda. Skip's tips will help you master your next meeting. Follow Skip.
Jon Mertz of Thin Difference gives us What Meetings Do People Want to Attend? Design an experience.  Too many organizers fail to think about the answer to this question before scheduling a meeting. It's up to leaders to design a better meeting experience. Follow Jon.
William Steiner of Executive Coaching Concepts asks 8 Questions to Guarantee Meeting Productivity.  Ask these before, during and after a meeting to get the best results possible. Follow William.
David Grossman of The Grossman Group gives us Leading in Person: Six Reasons to Communicate Face-to-Face. There are more than enough ways to communicate – email, voicemail, text message, instant message – yet too often they can add up to message overload for employees. That's why when something is important, nothing compares to face-to-face communication. When a leader needs to inspire people—or move them to action—the best way to do it is to look people in the eye and tell them exactly what they need to know. Follow David.
Shelley Row of Shelley Row Associates shares Fire Up Your Conversations! When to Use Email–or Your Voice. Some "meetings" happen using written communication, others benefit by voice and face-to-face. Shelley helps us determine what medium to use.  Follow Shelley.
Making the Most of Meetings
Kaylee DeWitt of Patriot Software, LLC writes How to Make Meetings More Effective.  Unproductive meetings can burden employees and waste time. Use these five tips to make your next meeting more effective, build teamwork in the workplace, and improve business operations.  Follow Kaylee.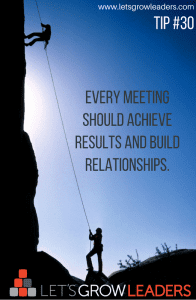 Chip Bell of Chip Bell Group gives us 10 Ways to Killer Meetings.  We spend more time in meetings than we do eating. We cannot live without eating; you would think the same was true of meetings. Here are 10 ways to make your meeting effective, fun and valuable. Follow Chip.
Ken Downer of Rapid Start Leadership offers 10 Unusual Meetings to Make Your Team More Productive.  Meetings don't have to be long, boring, and unproductive. Try these ten unusual approaches to get out of a rut, stimulate more creativity, and be more productive. Follow Ken.
Jesse Stoner of Seapoint Center for Collaborative Leadership writes the Planning Doing Cycle. Rarely will you have the luxury of time to plan everything out before you start a new project or change initiative. And even if you do, it's likely that unforeseen circumstances will send you back to the drawing board. Instead of planning and then doing, try approaching it as an iterative process, as a "planning / doing" cycle – like building a vehicle while you are driving it. Follow Jesse.
Julie Winkle Giulioni of DesignArounds encourages us with Making the Most of Meetings.  Given the commitment individuals and organizations are making to meetings—and given the reality that they aren't going anywhere anytime soon—it's incumbent upon leaders to ensure that they squeeze as much value as possible out of the time invested. This article offers 3 P's to consider before calling your next one. Follow Julie.
Reflecting on Meetings
John Hunter of Curious Cat Management Improvement provides Better Meetings. Meetings are perennial problems. People sit through meetings and then complain about how big a waste of time it was. Here are a few very simple tips to help achieve results with meetings (instead of just agreeing that meetings are wasteful, but doing nothing to improve them).  Follow John.
Robyn McLeod of Thoughtful Leaders Blog presents To Plan, or not to Plan, that is the Question, where she shares that life is what happens while you are busy making plans. By learning to focus both on what is happening in this moment and what you need to do to get you to your ultimate goals, you're more likely to get there. Robyn offers tips on learning to walk that balance of leadership along the way.  Follow Robyn.
Beth Beutler of H.O.P.E. Unlimited provides What You Should Do When Meetings Don't Meet Expectations. This infographic provides tools for preparing for, making the most of, and reflecting on meetings to achieve better results.  Follow Beth.
Your turn.
Do you have a best practice to share? What topics would you like to see us cover in a future Frontline Festival?
We also have some exciting news coming later this month. Stay tuned for more information.
Are you a blogger? We would love to include you in our next Frontline Festival on the Art of the Tough Conversation. Submit your relevant blog posts here.