Your Work is Valuable – Let's Make Sure You Get Leadership Visibility
Let's talk about getting more leadership better visibility and recognition for YOU – and YOUR TEAM's – work.
Today's #AskingForaFriend came in from our Micro-Learning Lab.
"I've always had trouble "selling" my (or our) job to higher management. I thought the work should speak for itself. However, in a very busy environment, the message may get lost. How do I ensure that management knows of our achievements and realizes how much work the team does?"
Three Ways to Position Yourself for Better Exposure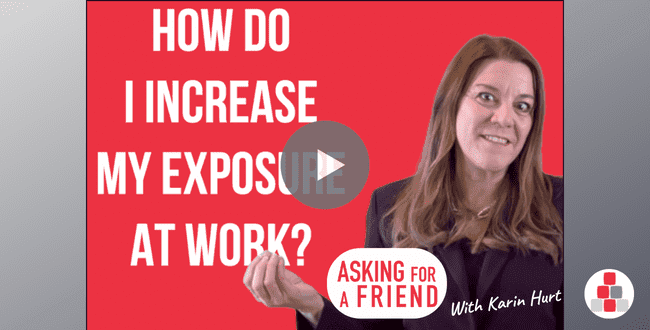 1. Position Your Team Strategically for Better Leadership Visibility
In order to achieve better leadership visibility, set clear and measurable MITs (Most Important Things) that align with the bigger picture. If you need help creating clarity, this article is a great place to start. Or, drop us a note. We'd love to chat.
By setting specific MITs for your team, you show the impact of your work. And, track progress toward bigger organizational goals.
Provide regular updates on your team's progress. You might even use our 5×5 communication technique to expand leadership visibility to your work.
This can help build trust and credibility, and demonstrate the value your team brings. Additionally, by regularly reviewing and adjusting your goals as circumstances change, you ensure your team REMAINS aligned with strategic objectives,
2. Build Cross-Functional Relationships with Other Departments
Help your team build deeper, collaborative relationships with other departments.
When people in other departments talk positively about your team, you get better leadership visibility without saying a word. Great work never happens in a vacuum. And some of the best recognition comes from peers.
By collaborating effectively with other departments, you can also gain a better understanding of the organization's overall goals and priorities. This helps better align your work with strategic priorities (see above). Which, in turn, helps gain support from senior leadership, Think of this as the leadership visibility snowball effect.
Furthermore, when YOU help OTHER DEPARTMENTS gain visibility and recognition, you pave the way for future collaboration. By working together and sharing successes, you can create a positive feedback loop that benefits everyone involved.
3. Invite Senior Leadership to Meetings
For more leadership visibility, invite senior leadership to a meeting and strategically share your work. It's not bragging, it's useful. Just be sure you're ready to nail it. Not all executive exposure is good exposure. See Also: 6 Reasons to Give Your Team Better Executive Exposure.
A few tips to keep in mind (and more tips here on presenting to executives)
Be transparent and authentic in your communication.
Let them know the intent of the invite, and topics to discuss.
Provide any relevant background or context.
Be an excellent steward of time.
Avoid overselling or exaggerating your accomplishments.
Focus on presenting an accurate and honest picture of your team's work and progress.
Emphasize your commitment to working collaboratively towards shared goals.
Use data to back up your claims and present them in a meaningful and compelling way.
Final Tip
When presenting your team's work to senior leadership, be sure to emphasize the importance of collaboration and teamwork. Highlight the contributions of individual team members. Demonstrate how their skills and expertise complement each other to achieve shared goals. This helps demonstrate your leadership skills and your ability to build and manage high-performing teams. Additionally, by emphasizing collaboration and teamwork, you reinforce your commitment to a culture of shared ownership and responsibility.
And psst…Dear Leader…if you want to bring human-centered practical leadership training to your teams, visit our Team Accelerator page. Learn about our manager-driven team development program to sustain company-wide change, from the inside out.
And now, your turn. How do you help your team's performance stand out so it's impossible to ignore? How do you ensure that they get the attention they deserve? Leadership visibility does more than improve morale, it also leads to better creativity, innovation, and courage.
This article will also help.