Show Up with More Executive Presence to Improve Your Leadership
We often receive this question… "Hi Karin, my boss says I need more "executive presence," but I'm not sure exactly how to DO that?"
Such a good question! Receiving this feedback from your boss can be very vague…especially if the person asking you to step it up doesn't define or describe what they are looking for. A super helpful first step is to get clear about what executive presence actually is.
To respond to this question, I brought in an expert, Joel Garfinkle, an Executive Coach, and Author. His most recent book Executive Presence: Step Into Your Power, Convey Confidence, and Lead with Conviction is all about practical ways to show up with deeper influence and impact.
The 3×3 Executive Presence Model and 9 Competencies
In his book Joel presents a 3×3 model and describes these 9 executive competencies:
GRAVITAS
-Confident, Commanding, Charismatic
AUTHORITIY
-Decisive, Bold, Influential
EXPRESSION
-Vocal, Insightful, Clear
Of course, you might excel in some of the competencies listed above…and maybe there's some areas that you could improve. Start with reflection. In which of these areas are you really solid? Where do you need to improve? What is lacking?
In our conversation, Joel and I get into one of his top pro tips – making sure people hear your voice. Joel shares some super practical advice that I don't want you to miss so watch the video to hear more (and share it with your introverted friends!).
Be more vocal and share your expertise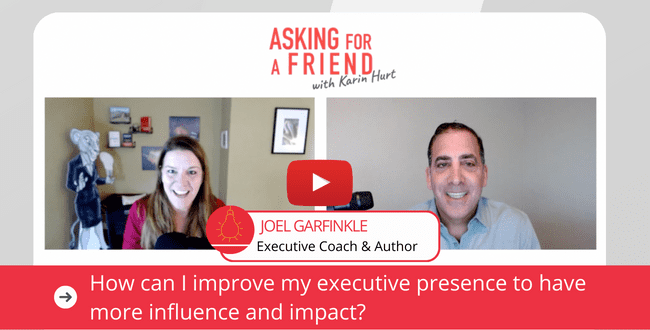 While yes, people will feel your confidence and presence when you speak up, it's not always easy to do so.
Especially for those who are more introverted.
Joel recommends speaking at least 2-3 times each meeting you attend so people know who you are and can sense your understanding. He also gives practical ideas to improve your executive presence such as how to interject when others are doing all the talking…and how to prep in advance with your plan to share.
What would you add? What advice would you have for a manager who needs a bit more "executive presence?"

See these related articles on Leadership Presence and Communication:
Executive Presence in a Virtual World: What Matters Now
Communicating to Executives: How to Get Better at Capturing Their Attention
And you won't want to miss this POPULAR Asking for a Friend on speaking with more confidence.