Use this Simple Technique for a Better Career Elevator Pitch
Do you ever think of exactly the right thing to say — your perfect career elevator pitch — the moment you walk away from the conversation?
Do you want to make a better impression when you have only a few moments to share your ideas or ask for something you need?
Today on Asking for a Friend, we go old-school and talk about a very practical, and easy-to-implement technique for getting people's attention and making an important first impression. This can help create clarity around the importance of your work. 
Ok, so the story I share with you in this video is seriously right on point. It's so relevant that it's almost hard to believe it happened! I actually had the opportunity to give my two-liner, power-packed elevator pitch to a senior-level executive – on an elevator – immediately following a team training about communication. 
This moment in my career helped launch me into the next level of leadership at the company I worked for. It's like all the pieces fell into place, right when I needed them to…
And I was ready with my elevator pitch
An elevator pitch is something I imagine many of us wish we had mastered earlier in our careers! And guess what? You don't actually need an elevator. Watch the video for my tips on how to prepare for that moment…the one that could potentially change your career and your life so you can become the leader you want to be. 
Try This Simple Technique for a Better Career Elevator Pitch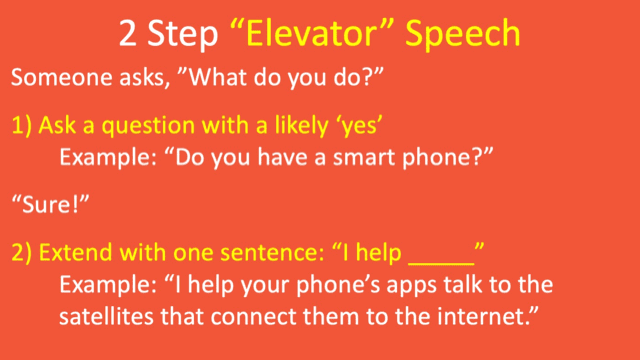 Step 1 of your elevator pitch is to give the person you're talking with context that they can relate to…choose a question that they know the answer to!  For example, I could start with something like, "Have you ever had a bad boss?"  
Step 2 of your elevator pitch helps position you in that process that they already know the importance of…and will make it really clear to them the VALUE of what you do. For example, after someone is nodding their head profusely to the question, "Have you ever had a bad boss?" Then, I could say, "I provide practical tools and techniques to help you be the leader you want your boss to be."
Big picture…they don't need to understand the HOW of what you do…and there are a lot of complex details that you don't need to share. You want to communicate with confidence the importance and value of what you do. 
Then your career elevator pitch will be memorable and worthwhile.
What would you add? What's one way you help people show up confident, credible, and ready to ask for what they need — when they only have a few moments?
P.S. This video was filmed just outside the amazing Leadership Institute in Beaver Creek, Colorado where we were working with a fantastic group of human-centered leaders at East West Hospitality. 
Related articles about communication, confidence, and leadership:
What's one piece of career advice you wish you had learned sooner?
Leadership Skills: 6 Core Competencies Let's Grow Leaders (letsgrowleaders.com)