Important Conversations to Prepare for an Uncertain Future
In this week's Asking for a Friend, I talk with Meredith Elliott Powell, Author of Thrive– Turning Uncertainty to a Competitive Advantage.  Meredith offers practical approaches to help your team prepare for an uncertain future.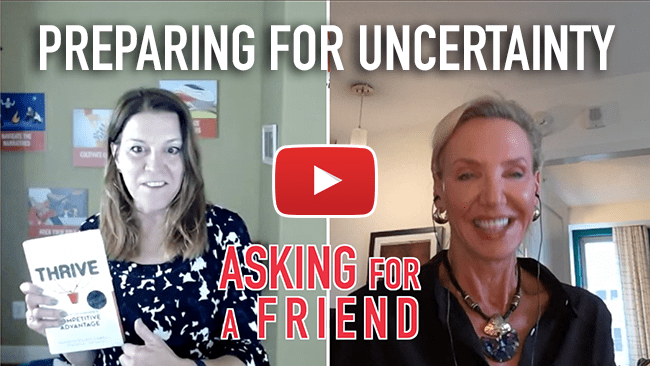 The Skeptic Model for Helping Your Team Prepare For an Uncertain Future
I love her Skeptic model to help your team think through future scenarios for dealing with uncertainty and change.
Consider what is happening in the following areas:
S-Society
C- (K) Competition
E- Economy
P- Politics
T- Technology
I-Industry
C-Customers
Fun Side Note
I got to know Meredith when we were on a philanthropic speaking tour in Southeast Asia with Together We Can Change the World.
This is the organization that we partner with to build our clean water Winning Wells in Cambodia.
I'd love to hear from you. How do you help your team prepare for an uncertain future?
Related Articles
7 Ways to Help Your Team  Deal with Ambiguity
How to Help Your Team Navigate the Chaos
4 Strategic Questions to Have With Your Team Before Year End