Better Questions Create Psychological Safety
In this week's Asking for a Friend, I talk with Jean Marie DiGiovanna, about more practical ways to create psychological safety at work, and our mutual interest in asking Courageous Questions.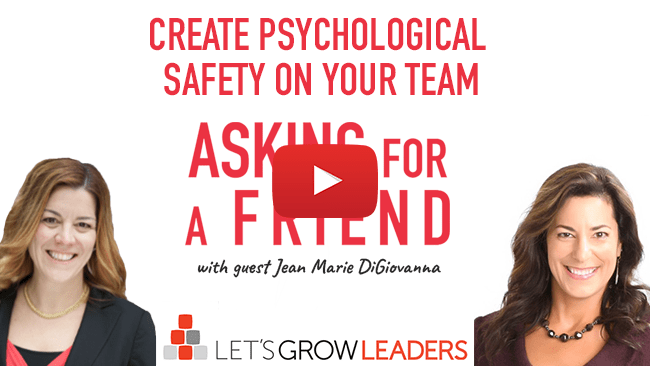 Not Just Any Question…
If you want better psychological safety, pick questions that create conversation.
Ask questions about how people feel, what they're experiencing, and what they would like more of.
And, how each of us can actually change. As a leader what can I do differently? Ask "how can I create an open space and an environment where we are safe to share our views. And, safe to disagree with each other.
A Few of Jean Marie's Favorite Courageous Questions to Build Psychological Safety
A few important questions to create psychological safety in your team.
Compassionate Conversation Starters
In an early article, we shared a list of compassionate conversation starters that work well to jump-start dialogue on your team. You can download the entire list here.
A few of my favorites…
What has been one source of inspiration or strength for you this year?
If you had a one-word mantra to describe your approach to this year, what would that be?
As you reflect on the turbulence of this past year, what makes you proud?
What are you grieving most from this past year?
What are you learning about yourself?
More Courageous Questions to Jump-Start Conversations
If you're looking for more Courageous Questions, here are some good ones. What else would you add?
(click the image for a full article and to download questions).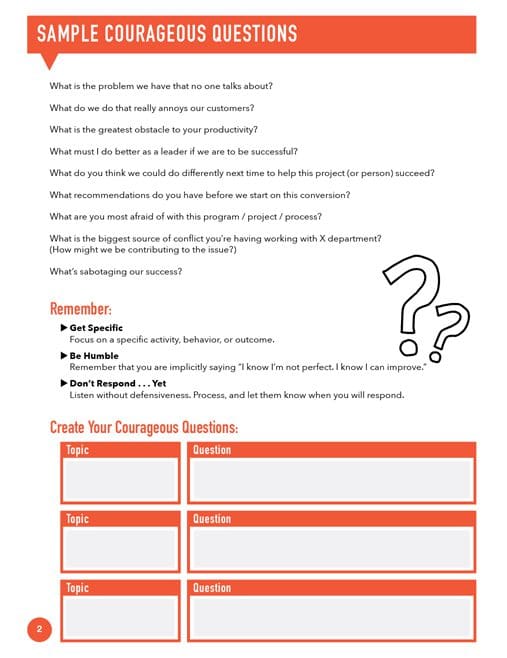 \
Related Articles on Psychological Safety
Share Your Ideas: Practical Ways to Ensure Your Voice is Heard
Speak Up Culture: How to Encourage More and Better Ideas
Psychological Safety or More Courage: What Your Team Needs Now