One of the most frequent questions we get (often whispered after everyone else has left the physical or virtual room) is "How do I help my team handle burnout at work?" Closely followed by an even more quiet whisper, "And what if I'm the one feeling burned out?"
That's why I was so excited to talk with Jennifer Moss, author of The Burnout Epidemic on my #askingforafriend show to talk about burnout at work, why it happens, and how to address it from an organizational, team, and personal perspective.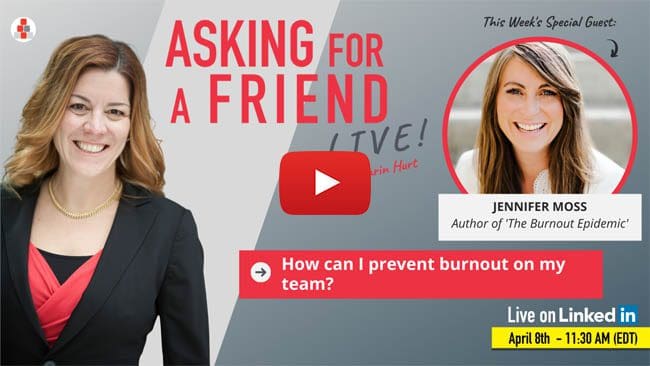 What Causes Burnout at Work?
Jennifer shares six main causes of burnout at work
Excessive workload
Perceived lack of control
Lack of recognition
Poor relationships
Lack of fairness
Values mismatch
Dialing back the activity and slowing down has been very healthy.
Burnout is sometimes defined as Institutional stress left unmanaged.
You cannot fix burnout with self-care alone.
Because the root causes of burnout are institutional, we need to attack the problems much earlier on ("upstream"), looking at societal issues such as leave policies in order to fix challenges. This may mean changing policies to cover non-traditional needs (i.e. parental leave not just for births or bereavement leave for losses beyond the immediate family) and designing policies to meet people where they are at.
It's very challenging to encourage people to take breaks when there is so much work because of turnover.
This may not be the time to have rapid growth acceleration goals or stretch goals.
Decrease workload by increments.
Train more strategically to streamline and save time.
Encourage lots of communication between team members and leadership.
We are still acting like we were when the emergency started. There has been a large increase in meetings, chats, and emails.
Change the expectations of who should be at meetings, how long they need to stay in the meeting, and make meetings more actionable.
Determine what communications are really needed.
Not being invited to a meeting isn't a slight – it's a gift.
Ask your team before deciding on certain policies or benefits:
"How much do you want to be in the office?"
"Do you enjoy the holiday parties or not?"
"Is yoga with the boss comfortable?"
"Are virtual happy hours really beneficial or is it one more thing to do?"
Also, be careful not to be tone-deaf (i.e. fitness challenges when there are people less physically able to participate.)
Remember that a committee planning wellness/culture initiatives are not just for deciding – it should be about asking.
Frequent, consistent, active listening is key.
Burnout was first defined as "caregiver syndrome."
Highly engaged workers care so much and therefore can be extremely stressed.
If you feel like you are no longer getting joy out of your work or are feeling disassociated or cynical, that may be a sign of burnout.
Overworking people can devalue their passion, which can negatively affect the community and economy as a whole (particularly if their role involves direct service to the community as in healthcare, teaching, etc. and we lose the ability to meet community needs because of a lack of workers.)
67% of people surveyed felt like they could not talk about mental health at work. It's starting to change. If you don't feel safe talking about it, see if there are more anonymous means (i.e. telehealth options) by which you can take care of yourself, or decide how long you want to work at that company.
The social contract with our workplaces is changing, but it's still a transactional relationship that needs to be mutually beneficial.
Asking what people need is key. Talk to employees about your role and consider yourself a mental health conduit, even if not a mental health professional.
Overcommunicate about the tools and options available.
Spend time with the HR team (who often feel siloed) to learn about options/policies. Give them data that will help them craft healthy policies.
There's no right way to feel right now. We are in a bit of a healing phase while dealing with uncertainty. It's time to give ourselves more grace and compassion. Acknowledge that we can't do it all. Instead, cheer yourself on for making it through another day. Also, give that grace and compassion to others.
Your turn.  What suggestions do you have for fighting burnout at work in yourself or in your team?