You want to be more courageous, but sometimes the stakes can just feel too high. So, how do you know the difference between courage and stupidity?
"Courage is every virtue at its testing point" -C.S.Lewis
In this week's, Asking for a Friend, Karin speaks with Jim Detert, author of Choosing Courage, about what it means, and what it takes, to be a bit more courageous at work.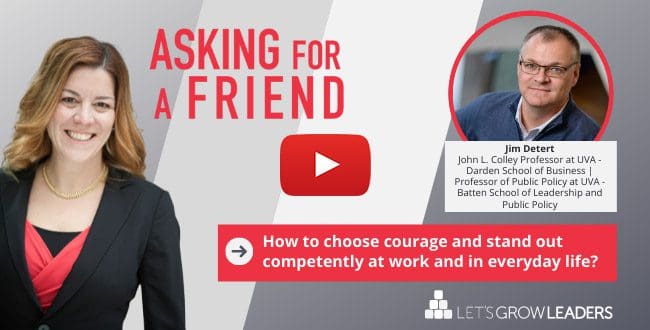 The Nature of Workplace Courage
1:24 Jim shares about his book and how it's important not to only know and have the tools for effective leadership, but how at work to use them. And we talk about how challenging "speaking truth to power" (i.e. the boss) can be.
3:40 It's important to separate courage from courageous actions. We ALL can identify with actions that we or someone else demonstrated toward a worthy or noble cause that carried some risk.
4:27 Courage at work involves risky but worthy actions.
4:39 We've allowed ourselves to believe that courage is just a property some people have, but that's not true.
5:09 Why should courage at work be any different from any other virtue expected on a regular basis (i.e. kindness)?
5:30 Jim shares about a study done with some of his students about people they admire for short and long term. In the long term, courage tends to stand out as the most admirable.
6:30 The myth of the "magical time down the road" when things get less risky.
7:57 Many organizations "talk the talk" about courage, but the sense is that the "yes people" are the ones who actually get promoted.
8:45 Is courage worth it?
9:04 It's not for one person to decide for another whether courage is worth it. The person needs to ask, "Do I care enough?" and "How important is it to me to be true to myself and authentic relative to potential consequences?" Also, think about longer-term horizons. People tend to look back and talk about positive, courageous things they did or regrets what they didn't do.
How to Be Competently Courageous
12:09 Some very specific elements of courage.
12:24 Speaking truth to power – some do's and don'ts. We should choose competent courage – courage that is also skillful.
13:26 It is not just "in the moment." We also do many things prior to and after that moment that will contribute to that moment of courage.
14:00 Showing up with both warmth and competence
16:05 Develop self-awareness so that we know what may detract from our warmth and competence (i.e. facial expressions)
17:50 Appear to be on both sides, or no side at all, to reduce the feeling of win/lose.
20:44 What's a good way to not be a yes person and be able to advance your career when the leadership appears to not value that sort of courage? You may have to decide if this workplace is even right for you. Do you want to advance in a toxic organization?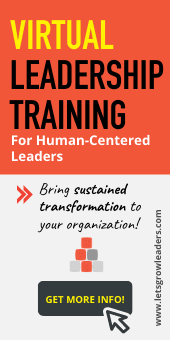 Also, be sure to reframe your points because your boss may be thinking about threats the company is facing more than opportunities you want to see. Pay attention to what is concerning to them. The content can be the same but the framing may need to be different.
23:47 Have a "bags packed" attitude so your career security doesn't depend on the money or identity you receive from one organization. Think honestly about the notion of loyalty. Sometimes courage at work means being ready to leave.
27:22 What advice do you have for people wanting to change jobs or careers? Get clear on your values and ask yourself what kind of organization, and what kind of boss do you want to work for? Interview the company, don't just be interviewed. Pick up on signals that may indicate it's not the place for you. Get things in writing.
30:10 We cannot be someone in 30 seconds what we have not been in the last 10 years…
30:49 One last piece of advice – you are not going to be ready for the big moments if you don't put in the work every day. Build a courage ladder.
Your turn. What's been your most courageous act at work? What helped you to muster the courage?