If you're like so many managers we're talking with, working from home enabled you to be surprisingly more productive. So, how do you maintain these new levels of productivity when you head back to the office?
How do you "land in the and" to support your team without burning out
7 Ways to Maintain Productivity as I Return to the Office #AskingForaFriend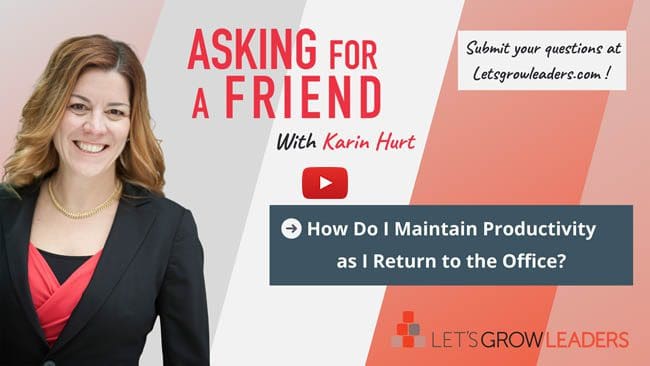 7 Tips for staying productive as you return to the office (or move to hybrid work.)
In today's episode of Asking For a Friend, I offer 7 tips for keeping productive while supporting your team.
Inventory what made your work from home time so productive.
Talk with your team and make a plan to support one another.
Leverage your commute.
Be deliberate about what work you do where.
Consider quiet hours for focused work.
Invest in strategic relationships.
Learn, iterate and adjust.
For a deeper dive, on this topic, you won't want to miss our feature articles:
How to Stay Productive as You Return to the Office,