Who are your favorite leadership role models? This month, as Frontline Festival authors were submitting their posts, I asked them to consider the 7 Results That Last roles, and identify one role model who exemplified the values and behaviors inherent in that role.
And now I invite you to play along. Who is your favorite role model and which of the 7 roles do you think they exhibit particularly well?
Thought Leaders Share Their Favorite Leadership Role Models
"We need role models who are going to break the mold." -Carly Simon
Translators
David Dye of Trailblaze suggests Nelson Mandela as a great leadership role model.  He didn't just work for peace, he articulated why forgiveness was vital and how specific activities, like supporting the national rugby team, made a difference. Follow David.
"If you talk to a man in a language he understands, that goes to his head. If you talk to him in his language, that goes to his heart." –Nelson Mandela
Connectors
Paula Kiger of Perspicacity suggests the post-presidency Jimmy Carter among the great leadership role models for a connector. He has worked with so many different nationalities and causes, connecting all along the way. Follow Paula. 
"Unless both sides win, no agreement can be permanent." -Jimmy Carter
John Manning of Map Consulting suggests Franklin D. Roosevelt. Follow John.  
Builders
Wally Bock of Three Star Leadership suggests A. G Lafley, CEO of Proctor and Gamble. His career is marked by consistently helping individuals and teams and his company do better.  Follow Wally.
Lisa Hamaker of How Good Can You Stand It? suggests Albert Einstein. He is mostly known as a genius in mathematics and physics, however he also knew that spirituality entered greatly into his work, "I want to know God's thoughts, the rest are details." Einstein also understood that the value of intrinsic motivation far outweighs the extrinsic, "Everything that is really great and inspiring is created by the individual who can labor in freedom." Follow Lisa.
"We cannot solve our problems with the same thinking that created them." – Albert Einstein
John Hunter of Curious Cat Management Improvement  suggests the late W. Edwards Deming, engineer and management consultant.  "He clearly articulated the importance of building a management system that was effective and continually improving.  This is the theme of my book, Management Matters: Building Enterprise Capability. – Follow John.
Dr. Artika Tyner of the Planting People. Growing Justice Institute suggests Charles Hamilton Houston. Social engineering was developed in response to racial inequities in the justice system. Civil rights pioneer, the late Charles Hamilton Houston, developed this theory due to his lifelong commitment to burying the remnants of racism. Houston characterized a social engineer as the mouthpiece of the weak and a sentinel guarding against wrong. Follow Artika.
Galvanizers
Matt McWilliams of Matt McWilliams Consulting suggests Mike Krzyzewski – "As much as I can't stand Duke (my dad went to Wake Forest), I respect Coach K because he always, always, always instills BELIEF in his team. He helps them taste the win long before they've experienced it." Follow Matt.
"Imagination has a great deal to do with winning." -Mike Kryzewski
Bill Treasurer of Giant Leap Consulting suggests Warren Buffet. Follow Bill.
Backers
Lisa Kohn from Thoughtful Leaders Blog suggests Nelson Mandela, the first black democratically elected President of South Africa and the leader and face of the Anti-Apartheid movement.  He fought against racial discrimination and for his actions, he served a twenty-seven year prison sentence. Showing his determination, focus, and will power after he got out of prison, he worked again for what was right. Follow Lisa.
Ambassadors
Chantal Bechervaise of Take It Personel-ly  shares, "A well-known leader that comes to mind is also one of my favorite authors too, Mark Miller. I feel that he exemplifies servant leadership and after reading the 7 roles, I think he is a great match for all of them."  Follow Chantal.
"When you expect the best from people, you will often see more in them than they see in themselves. The good news is that people generally rise to the level of expectations placed on them." -Mark Miller
Beth Beutler of H.O.P.E. Unlimited suggests the Biblical leader, Nehemiah, is a great example of all the roles but fits well as an ambassador. He had to travel back to his home country to spearhead the rebuilding effort while guiding the team to protect the borders from enemies as they rebuilt. Follow Beth.
Accelerators
Michelle Cubas, CPCC, ACC, of Positive Potentials, LLC . suggests three leaders that have dared to stand on the edge of conventional behavior and thinking. Daniel Pink is a current trend disrupter and contrarian who fits this description. Jim Collins has a place in this segment, too. Terrie St. Marie (Starbucker) who has written a post describing the difference between a boss and a leader. Follow Michelle.
Paul LaRue of The UPwards Leader suggests Steve Jobs and Bill Gates. Steve Jobs and Bill Gates. Even though personal computing was in its infancy, they still kicked out the traditional modes of doing business that "have always been done this way." Follow Paul.
"If I'd had some set idea of a finish line, don't you think I would have crossed it years ago?" Bill Gates
Blogger David Oddis has the privilege of knowing a few accelerators. Names that come to mind are Brandon Jackson, Sean Poris and Mark Portofe. These gentlemen do what great leaders do. They will without a second thought put themselves in front of the bus if needed. They will jump in and work side by side with staff to meet goals, encouraging and lifting spirits. They are not status takers or neck breakers, they are leaders and these are the type of people I want on my projects. They get it! Follow David.
Chery Gegelman of Simply Understanding suggests President Ronald Reagan who said, "The greatest leader is not necessarily the one who does the greatest things. He is the one that gets the people to do the greatest things." Follow Chery.
William Steiner of Executive Coaching Concepts suggests Jack Welch of GE, famous for his WORK OUT team methodology which brought people from all levels in business together to take a fresh look at all business processes and reinvigorate the whole approach.  Follow William.
BONUS TRACKS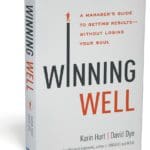 Fun to be interviewed on the future of training on the Top Learning Trends in Training and Development by HR Dive.
Eight Techniques to Help Your Managers Cultivate Their Sweet Spot in the Organization
Winning Well: A Manager's Guide to Getting Results-Without Losing Your Soul