On paper, your middle managers are in your organization's sweet spot. They're the conduits between your strategic vision and the teams who implement that vision. In reality, however, your middle managers are in a tough place. They're under increasing pressure–from above to improve results and from below to cultivate deeper relationships with their teams.
Results and relationships can be complementary; in developing relationships, managers can improve their teams' results. But in practice, too many managers fall into an either/or mindset. They either drive hard for results and railroad their people, or they focus on team building and miss the numbers. Either way, they wind up feeling isolated, frustrated and overwhelmed. They find themselves working longer hours, caught in a vicious cycle between "being nice" to their teams to prop up morale and running everyone into the ground to win at all costs.
The final outcome is inevitable. After years of trying to win while sandwiched between the employees who do the heavy lifting and the leaders above them piling on more, managers in the middle give up. They succumb to the feeling that, little by little, they've lost their souls. After the prolonged stress and declining performance, they disengage and leave, or get fired.
Whether managers quit and leave or quit and stay, morale and productivity go down across your organization, at all levels of responsibility.  Disengagement is that contagious.
There are steps you can take to help your middle managers learn to thrive again. You can help them shift from feeling like middle management is a rigged game to leveraging their sweet spot in your organization. The most effective managers in the world focus on both results and relation­ships. The key to Winning Well – to sustaining excellent results over time – is to combine a focus on achieving results with building healthy professional relationships.
Here are eight techniques you can support your middle managers to practice. When they practice these techniques, your managers will begin to deepen relationships and results at the same time, win well, and serve your organization effectively.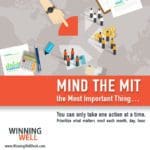 1. Mind the MIT
The number one cause of poor morale, performance problems, and subpar results is a lack of clarity. You can boost morale and productivity by helping your managers learn to communicate clear, shared expectations. Teach them what it looks like to be sure everyone is on the same page. Guide them to ask: "Does everyone on this team know exactly what 'winning' looks like? Do we all know the key behavior that will help us to succeed?"
2. Ditch the Diaper Drama
People need direct feedback that will help them know what to continue and what to change. However, most managers struggle to give direct feedback. Like stinky diapers in the modern-day diaper pail, they wrap their feedback in layers of self-protection so it doesn't offend anyone.
It's time to ditch the "Diaper Genie®" feedback. Effective managers speak the truth. They solve the stink – they don't try to cover it up or sandwich it between half-hearted compliments. Support your managers to improve their team's morale and productivity by having the tough conversations and speaking the truth with compassion.
3. Channel Challengers 
"No one listens around here, they don't know what I do, and they don't care what I think." These are the hallmark words of poor morale and lackluster performance. In contrast, effective managers recognize the value every person on their team contributes. They deliberately surround themselves with people who will challenge their thinking.
It's not enough for your managers to have an "open door." They must actively seek out feedback. They must ask their employees, "What is working to help you be productive?" And then ask, "As your manager, what is one thing I could do that would help you be more productive at your work?" Coach your managers to listen, respond, and celebrate the changes that enable their team's morale and performance to soar.
4. Own the Ugly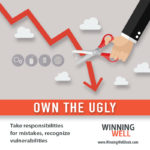 Many managers avoid taking responsibility for their mistakes. They fear that apologizing will make them look weak or that they'll lose credibility. In fact, the opposite is true.
When managers make a mistake, hurt someone, or break their word – it's not a secret. Their teams know and they're watching to see what the managers do. Can they trust their managers to own the mistake? Will they see a leader who is strong enough to recognize their own vulnerabilities? Help your managers learn the critical importance of owning a mistake, apologizing for it, making it right, and moving on. When you do this, you will support them to build trust with their teams.
5. Play the Game, Don't Game the Score
For managers to maximize their team's morale and productivity, they must keep them focused on what matters most. Your customer doesn't care what you get on your internal scorecard. They care about the value you deliver.
Support managers to isolate the key behaviors that drive the value they contribute to your clients and customers. Help them play the game, fair and square. Teach them that if they reinforce these critical actions every day, the score will take care of itself. Above all else, don't let your managers "game the score." That is, don't let them waste time trying to artificially adjust measurements that aren't meaningful to the people consuming what you create.
6. Put People Before Projects 
When managers prioritize people before projects, it prevents them from falling into the trap of seeing people as machines. Highly productive teams enjoy high levels of trust, connection, and collaboration. Col­laboration is more than simply working together. It's an attitude that communicates managers are in it with their people, not apart from them.
Forge a pathway for your managers to connect with their people as human beings. Encourage them to treat everyone with respect and dignity, instead of as a number, object, or problem. Work with your managers to help them recognize the unique strengths and perspectives each person brings to the team. Teach them to take the time to look at a person's potential to perform beyond her current role. What holistic wisdom and experience do people bring?
7. Trust the Trenches 
Your managers have a tremendous source of wisdom living in your front line–product knowledge, insights into customers, and latent opportunities to improve performance. Unfortunately, most managers never get the benefit of these insights because they don't ask.
Coach your managers to know the people closest to your customers and products and listen to what they have to say. Sometimes these may not know how valuable their observations can be. Help managers learn to draw out the opportunities. Encourage the celebration of success and giving credit where credit is due when these front-line ideas work.
8. Rock Your Role, One Skill at a Time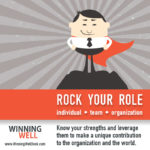 Can people look at your middle managers and see the excellence you're expecting of them? It's hard for people to bring their "A games" 100% of the time, but the most effective managers show up to play every day. They model the aggressive skill development they need from their people. Morale goes up when people feel empowered to position themselves for success.
To help your managers model honing their professional crafts, zero in. Read what the experts are saying about the future in your field. Assess how your managers' skill sets stack up against the trends driving your industry, and address the gaps. Find a mentor or two who has skills your managers need, or invest in a specialized leadership development program. Rocking your role is about progress, not perfection. Support your managers to engage that process – to model that step-by-step development. You'll liberate and energize them to take ownership of their roles and results.
Your middle managers are your number one competitive advantage. When you consistently cultivate their practice of these techniques, you'll see organization's morale improve and productivity increase. You'll build a founda­tion to sustain breakthrough results long into the future. That's not just winning – that's Winning Well.