What if you could pre-screen a movie of your life to help guide you in making your most pivotal decisions? Can you imagine knowing how your screenplay unfolds would guide your answers to the biggies:
Should I follow my passion and shift careers?
Should I relocate my family for that promotion?
Should I take the risk and stand up for what I  believe in?
Who should I seek out as a mentor?
Should I marry him?
Should I move to part-time while my children are little?
Who should I groom to carry on my legacy?
I was talking with LGL subscriber, David Oddis (below) after giving a Winning Well workshop for his organization. He shared a game changing question his mentor asked when he was contemplating taking on a new role.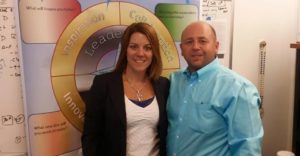 His mentor simply asked, "Is this move part of your story?"
Can you see the power of that question?
In other words, what is the story you are looking to write with your life?
Who are the central characters?
What values does your story represent?
How will you feel about that decision when you're playing back the trailer?
If you make this decision, what doors does that open and close for the next scene?
David shared, "That question made it so simple for me. It was clear that move was not part of my story."
Not all opportunities (no matter how good look on paper) take our story in the direction we want.
Of course we can't write the whole story. No one invites cancer into their story. No bride marries knowing that divorce is in the next chapter. But we DO hold the pen as we write our response.
What does our story say about how hard we fight? What does our story say about how we show up for our children in the midst of the angst? What does our story say about how we find a new beginning?
When faced with a difficult decision ask yourself, "Is this part of my story?"
The answer may surprise you.
Are you interested in booking a Winning Well Workshop for your organization? Please call me at 443-750-1249.