I was giving a keynote on Saturday to large group of administrative professionals. My speech followed the recognition lunch. In addition to their formal awards, they did one of my favorites, "Stand up if _____." "Stand up if you've received your certification (nearly everyone in the room stood)." "Stand up, if you've achieved another important professional milestone (again, the room looked like a standing ovation)." "Stand up if you made a significant contribution as a volunteer this year (nearly all again.)" "Stand up if you've received any kind of recognition this year at your job (about 2% of the room stood)." I'm sure the intention wasn't to prove that point, but it raised an important issue. These hard-working admins in vital roles, felt their contributions were not being recognized as they should.
Earlier that week I was working with a group of frontline leaders who supervise construction workers. I asked "What can you tell me about your team members? Are they married? Do they have kids? What do they like to do for fun?" One of the guys admitted. "Well, I only find out about that stuff when it becomes a problem. Like if they have to call take their kid to the doctors and miss work. Now that I think about it, it's always in a negative context."
If you're full of energy, but your team looks like they need a good shot of an energy drink to get going, ask yourself these questions.
37 Questions to Ask Yourself if Your Team Lacks Energy
Do I SEE them for who they are?
What do I know about my team members as people (e.g. What do they do for fun? What is their significant other's name?) This free tool can help. connections worksheet
Do I know about their additional talents and skills (those not necessarily used in their core job) that we could tap into for special projects or events?
Do I help them leverage and develop their strengths?
Do I TRUST them?
Do I rely on them to make decisions in their areas of expertise?
Am I able to be vulnerable with them?
Am I SUPPORTING them?
How do I advocate for them and their careers?
Who needs more support?
Have I ensured they have adequate tools and resources to be effective?
Am I CONNECTING with them?
Does my team truly understand what we're trying to accomplish and why?
Do we have times that we talk about things other than work?
Do we enjoy being around one another?
Am I HEARING what they are telling me?
How could I make it easier for them to give me feedback?
When someone gives me bad news, how do I respond?
Do I ask for their opinions?
Am INCLUDING them?
Do I involve them in decisions?
Am I willing to share sensitive information?
Do I give them opportunities to present to my boss?
Are we SUCCEEDING?
Do we take time to understand our successes as well as our failures?
How do I help my team become more resilient to setbacks?
What could we start doing today that would have the biggest impact on our results?
Am I RECOGNIZING their contributions?
Do I provide a good mix of positive and constructive feedback?
Do I say "thank you" enough?
Do I know how each of my team members likes to be recognized?
Are we HAVING FUN?
Do we find time to enjoy our work and one another?
Do I create an environment that fosters creativity and fun?
Am I REAL with them?
Do I share my thoughts and feelings with candor?
Do I explain the reasons behind controversial decisions?
In other news.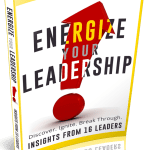 16 Authors from around the world met through social media and discovered a shared passion–leadership. We all have varying backgrounds ranging from senior leaders within organizations to consultants, coaches, bloggers, and authors. Today we announce the launch of our collaborative book, Energize Your Leadership. Learn more about Energize Your Leadership.