Each family arrived with their burdens and joy. The room filled with cancer, divorce, under-employment, stagnated careers, struggling children, successes, start-ups, deepening relationships, home improvements, recovering health, big accomplishments, and new beginnings. We spoke of none of that.
Technically it was a rehearsal dinner, we were eating pizza and rehearsing, although covertly, while the next day's bride and groom were hanging elsewhere.
And so this Labor Day, I take a temporary diversion from our normal fare, and offer a story of successful shared leadership and joy, family style.
Shared Leadership: Family Style
Clear Vision
We were 2 dozen extended family members with a singular focus inspired by my cousin's vision. We were working to master the "cup song," cups in coordinated symphony to Adele's Love song-– a stealth mission to "hijack" my cousin's first dance halfway through.
Work Environment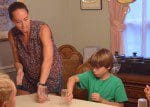 My cousin, Kathy, served as instigator and chief organizer. My aunt served as gatherer, and my uncle grilled pizza. The teenagers came well-rehearsed and served as teachers for the oldest and youngest among us. The project would culminate at a fancy downtown venue, we would not be banging cups in a barn. Stakes were high.
Shared Leadership
We had no project plan, but roles emerged. Each was encouraged to use their gifts. The crowd murmered. "Jared and Bethany, can you please slow it down and teach the grown-ups?," Kathy, an elementary school teacher sensed the frustration of the little guys and snuggled up behind them to give them an easier role.
When I arrived, I was handed music I had never heard, and told I would be singing a capella, no mic. I quickly looked at my youngest cousin, Eric, "did you bring your guitar?" Shoot, okay, I have a dusty one in the basement. Can you come to our house to spend the night? Laura, an exec, realized we clearly were going to need a second rehearsal for this mushrooming project, and called the wedding venue for time and space before the event.
Fearless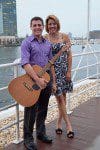 We were creating music with one rehearsal for a crowd filled with professional musicians (the bride and groom are accomplished folk singers). We approached the project as a gift. Quality was important for sure, but we felt safe to go big. We knew our offering would be received in the spirit it was given. We could have easily talked ourselves out of this.
Communication
Suddenly we had text distribution lists to organize "emergency' trips to the music store etc. We had a sleep over and breakfast with dozens of eggs. Those side trips were filled with wonderful time to catch-up on the rest of our lives. Somehow the bigger issues that hung heavy on our hearts were easier to share in this cup-induced cadence.
Success
The bride squealed with delight. The groom thanked us sincerely. We have grown as a "team" and a family. We're ready for the next engagement.
Do you have a favorite shared leadership memory? How can we bring more such shared leadership joy to our lives?