I'm delighted to present the August edition of the Frontline Festival. Thought leaders around the world share their insights on energy and engagement. I am inspired and grateful for these amazing contributions.
Managing Personal Energy and Engagement
Jesse Lynn Stoner of the Seapoint Center, shares 7 Ways to Increase Your Own Engagement and Satisfaction
Are you concerned about the level of engagement on your team? According to Gallup and other studies, it's likely you should be. But before you focus on your team, take a look at yourself. How satisfied are you? It's difficult to engage your employees if you as a leader are not satisfied. Here are 7 ways to assess and increase your own satisfaction and engagement at work.
John Hunter, of Curious Cat Management improvement Blog shares his compelling post, You've Got to Find What You Love. Inspired by Steve Jobs,
"Your work is going to fill a large part of your life, and the only way to be truly satisfied is to do what you believe is great work. And the only way to do great work is to love what you do. If you haven't found it yet, keep looking. Don't settle."
Enzo Guardino of shares a beautiful and personal story about harnessing the energy of rage, in his post Rage Against the Machine. An important point, sometimes the rage we feel is at ourselves. How to harness negative energy to create positive outcomes.
Mike Henry, Sr. of Lead Change Group shares his post 5 Ways to Direct Your Best Energy Toward Your Greatest Purpose. He offers practical suggestions for pouring your energy into what matters.
Frank Sonnenberg of Frank Sonnenberg Online shares The Power of a Positive Attitude. A positive mental attitude can improve your health, enhance your relationships, increase your chances of success, and add years to your life.
John Stoker of DialogueWORKS shares, Can you Manage Your Emotional Energy. I love his point about the important message our energy conveys,
"That energy either influences them to be receptive to what you have to say or leads them to be resistant or defensive toward you and your message. In essence, you are the message that you portray."
Creating a Culture of Engagement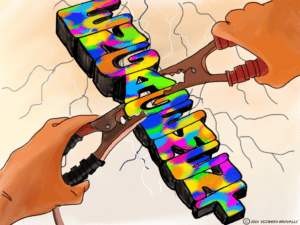 Joy and Tom Guthrie of Vizwerx Group share their wonderful graphic (left), Energy and Engagement. They are the artists behind the REAL leadership series. We've got a new project in the mix, stay tuned.
Dan McCarthy of Great Leadership, shares, Are You Managing Penguins or Polar Bears? What a fantastic metaphor for energy. The video's worth viewing and sharing with your team.
Kate Nasser, of Kate Nasser: Smart Sensibilities Blog shares Leaders Engage Employee Urgency With Deep Connection. To build lasting engagement, lead beyond vision to create deep connections.
Lolly Daskal of Lead From Within shares her post The Energy of Change. Energy comes from deep engagment and energetic moments.
"Organizations are successful with change when the people within them embrace the change. It takes one gesture. One person. One moment at a time. Change is the end result of genuine understanding and learning."
Alli Polin of Break the Frame shares Leader is Your Team Bored and Just Along for the Ride? My favorite line, "When people don't have information, they make up their own stories and get distressed by their self-made truth."
Tanveer Naseer of Tanveer Naseer shares, How Leaders Are Creating Engagment in Today's Workplace.
"We need to recognize that a fundamental function of leadership is not only what and how we communicate, but also how we show up in those moments, and what we're willing to contribute of ourselves and to others."
David Dye, Trailblaze, shares a compelling story of "why" is at the root of energy and engagement. What a Vegetarian Can Teach Us About Leading Energized Teams
Bob Winchester, of Corporate Culture Revolution shares, Improving Employee Engagement, Even the Janitor Cares. He asks, "Have you ever been told to shut up and do your job?"
Jon Mertz shares 4 Engagement Levels for Gen Y from his Blog, Thin Difference. Engagement needs to be multidimensional. To deliver greater purpose, we need to raise our engagement levels up to include self, work, community, and future. Couldn't agree more.
Dan Forbes of Lead With Giants shares The Engagement, Stupid. My favorite line, "When your team is disengaged, you are on the path to becoming irrelevant."
 Robyn McLeod of The Thoughtful Leaders Blog shares, Bucket filling as a leadership competency:. Schools across the nation are picking up on the concept of "bucket filling" as a way to teach children the value of showing compassion and treating others with respect and kindness. This post by Robyn McLeod of Chatsworth Consulting Group looks at how leaders can be more effective by practicing "bucket filling" in the workplace – and with this simple concept, increase energy, engage others, and yield great results for themselves and their organizations.
Chery Gegelman offers Paid To Think? Or to Check Your Brains at The Door? from her Giana Consulting Blog, Simply Understanding. She reminds us of the power of engaging all hearts and minds.
Matt McWillams of mattmcwilliams.com shares 4 Things to Say Before Any Meeting. In this clever post, he shares DISC-influenced "mantras" to prepare you for your next meeting.
Wally Bock shares, of Three Star Leadership, brings us, 10 Engagement-Building Behaviors for the Boss. If you're the boss, we know that you're the one most responsible for the performance, morale, and engagement of your team. Here are ten things you can do to improve all three.
Active member of the LGL Community, Ali Anani shares his presentation, Blue Ocean Strategy, Balanced Scorecard, and Team Forming: A Shared Perspective Here, team formation, blue Ocean Strategy and Balanced Scorecard are put on the same canvas.
Disengagement
Jennifer V. Miller of The People Equation gives us 12 ways senior management kills employee engagement. My favorite, "Allowing their personal struggles with another executive to grow into silos, politics and turf wars that impact their teams, their customers and the entire organization." Care to add to the list?
Leigh Steere, shares her Lead Change Group Post, 9 Ways to Sink Employee Engagement. My favorite line, "If jobs are at stake, spell out the unvarnished truth. Describe as best you can what it means for employees. They need the truth so they can plan (and help you).
Greg Marcus, of Idolbuster Just Realize Your Job Sucks? Here's Why It Took So Long to Notice.
"Many people who have left a negative circumstance say that the change was long overdue. I'm sure there are many reasons for this, financial, emotional, social. But I wonder if part of the issue is that it takes us a while to realize how bad things have gotten. It turns out that we notice far less than we think we do."
Engagement and Social Media
New to the Festival, Hoda Maalouf of Powerful Lessons From Everyday Life shares, Socializing and Circling People. She provides examples of how social media can nurture meaningful engagement and positive relationships.
Coming Soon
The September Festival is on Leadership Development. Submissions are due September 13th. Send your links to [email protected]