Episode 238: In this episode, David Dye discusses practical ways for team leaders eager for promotion to prepare themselves for more responsibility. He emphasizes investing in knowledge and wisdom, achieving results, building relationships, and speaking up. The podcast provides specific tips and strategies for each area, such as getting to know the business, asking for feedback, prioritizing peers, and attending conferences. David also addresses what to do when positions are not available, suggesting looking for different assignments or exploring opportunities outside of the current organization. Overall, David encourages team leaders to consistently invest in their skills and qualifications to increase their chances of promotion.
Smart Advice for Leaders Who Want a Promotion
00:00 – "Leadership without Losing Your Soul: Episode 238. Today's focus: Team leaders eager for promotion and practical leadership strategies."
02:01 – "Frustration in Promotion: Avoid telling team leaders, 'Give it time, you're not ready yet.' Discover actionable steps for seeking advancement."
03:03 – "Knowledge and Wisdom: Understanding your business, its revenue model, and the impact of your team's work is crucial for aspiring leaders." 
04:28 – "Ask Why Respectfully: Seek big picture goals for better alignment and strategic thinking." 
06:09 – "What Matters Most: Align with organizational values and outcomes beyond securing advanced degrees."
07:07 – "Ambitious Team Leaders: Communicate your aspirations for higher roles and seek feedback on skills and experiences needed."
Team Leaders: Focus on Results!
10:04 – "Results Focus: Ensure their teams meet KPIs and tackle challenges proactively for promotion readiness."
13:41 – "Relationship Building: As a team leader, prioritizing peer relationships and collaboration is key for career advancement."
17:11 – "Building Leaders: Focus on developing leadership skills within their teams to become more promotable."
21:40 – "Speaking Up: Sharing ideas and solutions can establish team leaders as critical thinkers and proactive contributors."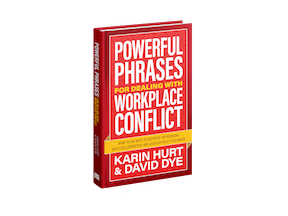 If you'd like more specific, practical phrases and approaches for common sources of workplace conflict, check out our newest book (May 2024—available for pre-order now): Powerful Phrases for Dealing with Workplace Conflict—What to say next to de-stress the workplace, build collaboration, and calm difficult customers.