Episode 236: When you find yourself frustrated, yelling to yourself or the world, "Don't they understand?" the answer is likely "no, they don't." But you do understand – and these moments of frustration are an opportunity for you to lead and make things better. In this episode David shares severals ways to meet these frustrating moments with leadership, whether that's leading up, down, or sideways.
Don't They Understand? – How to Deal with the Frustration, Lead, and Transform the Situation
0:32 The silent scream in every leader's head: 'Don't they understand?' Discover why this question reveals a bigger issue in communication and leadership within organizations.
1:45 Responsibility vs. Opportunity: Why understanding the difference can be a game-changer for executives facing communication breakdowns.
2:58 Unpacking the consequences of decisions. Learn how leaders can effectively communicate the trade-offs and implications of corporate decisions to their teams.
4:10 The theory and the practice of 'just working harder.' Why this common solution is often unsustainable in the workplace.
5:22 Owning the outcome. Strategies for leaders to assume responsibility and advocate for their team's health and capacity in the face of challenging targets.
6:35 Navigating the cascade of decisions. Expert tips on how to communicate changes effectively. Avoid having to ask, "Don't they understand?"
7:50 The crucial 'Why' in workplace communication. Why it's often missing, and how its absence can lead to frustration and disengagement.
9:05 Strategies for 'managing up' and 'managing down.' Practical advice on ensuring clarity and understanding flows in every direction.
10:18 Skip-level check-ins: The secret tool for leaders to ensure their message is not just heard but understood across all levels of the organization.
11:30 Concluding insights on the power of communication in leadership. How to be the leader you'd want your boss to be and drive lasting success.
You may enjoy the next episode: Help Your Boss Stop Wasting Time with Bad Delegation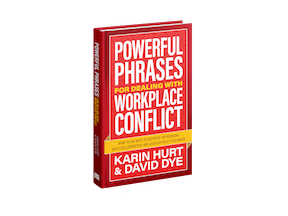 If you'd like more specific, practical phrases and approaches for common sources of workplace conflict, check out our newest book (May 2024—available for pre-order now): Powerful Phrases for Dealing with Workplace Conflict—What to say next to destress the workplace, build collaboration, and calm difficult customers.