Do You Have a Joe on Your Team?
Do you have someone on your team who doesn't speak up in meetings…then shares all their excellent ideas and important perspectives after the fact?
"I have this guy on my team, let's call him Joe. Joe is SO SMART, and there's a problem. We'll be in a meeting and he'll just sit there quietly, not really saying anything… the meeting will end, and we'll be walking out of the meeting and then he shares all the great ideas, his great perspective, and all the information that we really needed to talk about in the meeting. What should I do? How can I help Joe?" #askingforafriend
Joe is what we call in our book, Courageous Cultures, a SILENT PONDEROUS type. He's got ideas but he doesn't speak up in meetings. He's not bringing his voice to the team as he could and probably should, results suffer and he's potentially holding back his career
What You Should Know About the Silent Ponderous Type Who Doesn't Speak Up in Meetings
They likely have great ideas but and can get frustrated with other people's wacky ideas. They spend time thinking through their ideas to articulate them just right, and sometimes by the time they're ready to share, the conversation has moved on.
Often they need time to think and get clear on their ideas before they speak up in meetings. They don't do well when put on the spot.
There's a good chance they're concerned their ideas aren't 100% accurate and they need permission to explore ideas openly.
Practical Tips to Help Your Team Member Speak Up in Meetings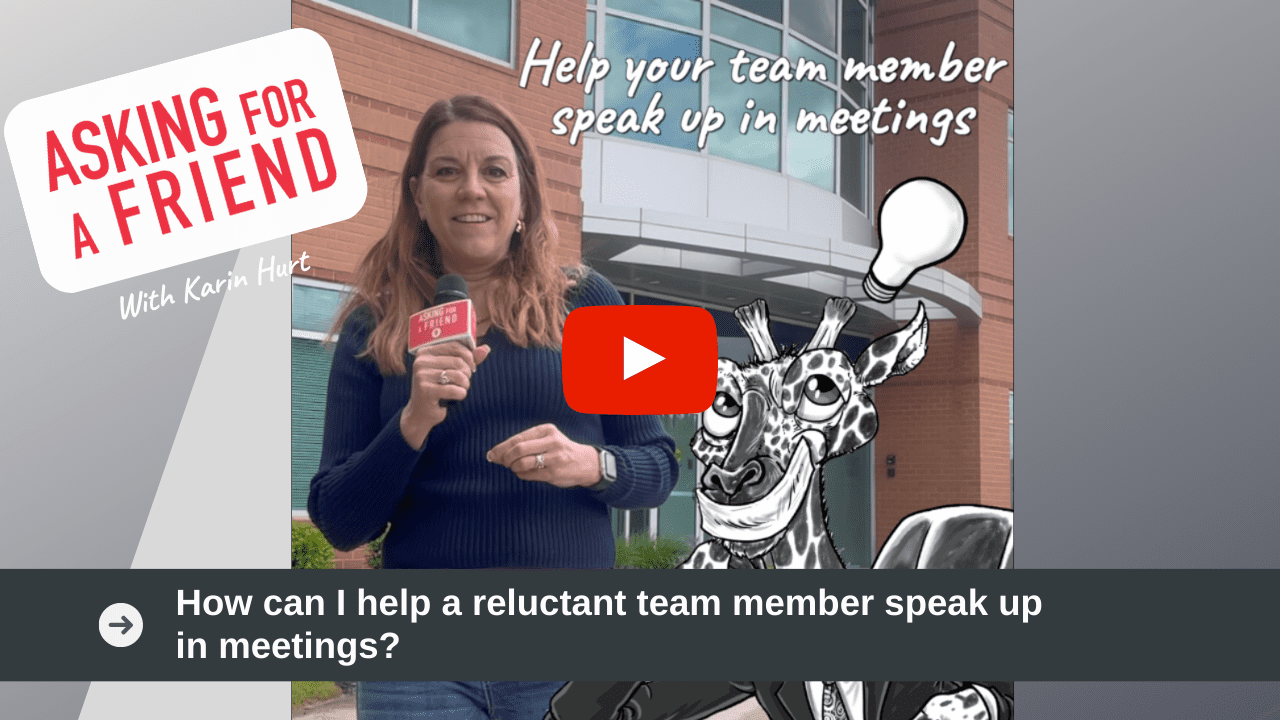 More Thoughts on Helping Joe Get Better Speaking Up in Meetings
Joe – might be right on the verge of a career breakthrough and he's holding himself back by not speaking up in meetings. It's hard to notice his innovative thinking if he stays silent. Not only can you help your team grow and get better results by helping Joe speak up, but you'll also help his career.
1. Be curious with Joe about what's going on.
If he's consistently sharing thoughts with you after a meeting, ask him why, and really listen. The possibilities are extensive. As one LinkedIn follower shared, he might even be neurodivergent and could use some additional understanding and support.
2. Explain why his voice matters.
Make sure he feels like a valued member of the team by letting him know that his ideas are important and that speaking up in meetings will make a difference. Be sure he understands that it's not just his input that matters, but the conversation with other team members to expand his thinking that leads to deeper collaboration and ultimately better results.
3. Help Joe prepare for the next meeting.
Give him the agenda a day or two in advance and ask him to think about and prep what he wants to share. Not only will this help him prepare, but he'll also take note of your interest and enthusiasm around his participation.
Another important element of this is helping him consider who will be in the meeting and what might be on their hearts and minds. Have him write down his most important points, and anticipate questions he might be able to answer. Giving him a concrete process to prepare can go a long way in increasing confidence and competence.
4. Debrief and help him learn the process so he can do it himself.
Check in with him after the next meeting, and debrief how the preparation process worked for him. Celebrate and recognize his contributions, and encourage him to continue to refine and use that process on his own.
Your turn.
What would you add? How would you encourage Joe to feel confident and competent in sharing his ideas in the next meeting?
Check out these related articles:
How to Get Your Coworkers to Embrace Your Great Idea (Video)
Share Your Ideas: Practical Ways to Ensure Your Voice is Heard