Don't Let Well-Meaning Naysayers Derail Your Contribution
Naysayers love to discourage courage. If you've got a naysayer telling you it can't be done (or you can't do it), what you do next makes all the difference. How to deal with naysayers, stay confident in your goal, remain humble and stay open to the important learning along the way.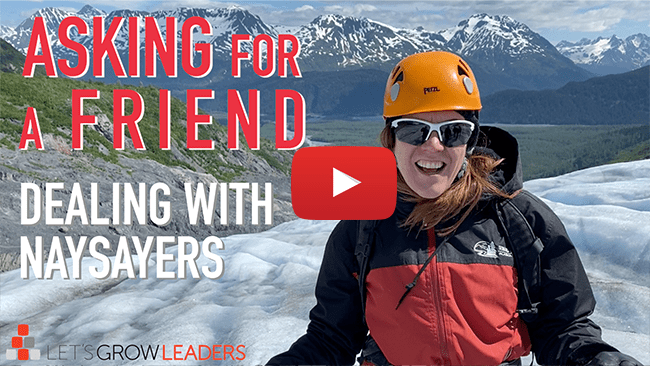 What is a naysayer? (And why do they say nay?)
A classic definition of a naysayer is someone who criticizes or opposes what you want to do.
Why do they say nay?
It depends. There are a whole lot of reasons. Here are two you're likely to encounter when you set out to do something new, important, or make a significant change.
The Experienced Naysayer (I've seen this movie before-ers)
It's entirely possible that they've got gobs of experience and think they've seen this metaphorical movie before. They genuinely care about you and want to help.
They may have important insights that matter and are worth listening to. Their experience might give you some shortcuts as you work to achieve your goal. Or, point out landmines to avoid.
These are the best kinds of naysayers if they're interested in dialogue and conversation. Hold them close.
The Well-Meaning, Nervous For You Naysayer (I'd be too scared to try it, so you shouldn't either)
Sadly, the other seemingly well-intentioned naysayer is the person who projects their insecurities on you.
Their "if I were you" is absolutely true. They think what you're doing is crazy because they wouldn't try it.
When I left my big job at Verizon, these naysayers came out of the woodwork in droves.  Most of them were people who loved me, cared for me, and had my best interest at heart. I'm 100% sure of that.
And, they couldn't envision themselves ever leaving a successful, secure job at that level. All they could see was what I might lose. It was very hard for them to see what I could offer to make a larger impact on the world, and why that mattered so much to me.
And if I'd listened, I wouldn't have written a single book, and wouldn't have had the courage to live out my dream to provide practical tools for human-centered leaders around the world.
3 Ways to Deal with Naysayers and Challenge Challengers to Get The Support You Need
1. Ground Yourself in (and Explain) Your Why
When you ground yourself in the deeper "why" behind what you want to do, it's easier to help channel challengers into a productive conversation. You can say, "I know this is not going to be easy, and you're raising important concerns to consider. Here's why I still think this is worth doing and WHY it matters."
Such conversations can help your well-meaning naysayers better understand your motivations. Shared understanding is a great starting point for collaborative, solutions-oriented conversations.
2. Create Clarity About What Success Looks Like For You
Dealing with naysayers can feel particularly tricky if you don't have a clear definition of success and the milestones along the way. It's easier to believe that your plan's not working if you can't point to tangible progress.
Also when you can point to an objective plan and progress, your well-meaning naysayers are more likely to come along and find ways to support you when they see progress.
Clear measurements will also help you stay more focused and objective to know when the naysayers may have a point, and it's time to change direction.
3. Challenge and Channel Challengers (the Experienced Naysayer)
Doing courageous work can feel remarkably lonely. It's so important to develop a strong network of people who get what you're looking to accomplish and have expertise and insights to offer.
When I was starting Let's Grow Leaders, I reached out to all kinds of successful authors, keynote speakers, and trainers. An important part of this journey has been the amazing relationships I've built through the National Speakers Association and the Association of Training Providers.
In fact, that's how David and I met, which turned into a love story (you can read more about that here).
I'm constantly seeking out friendly "naysayers" and saying things like:
"Tell me why this idea is bad."
"Have you ever tried anything like this? What made it hard?" Or, "what haven't I considered here?"
"If you were launching this new approach, what would worry you?"
When you're doing important work that matters, you're likely going to deal with naysayers. Sometimes they're projecting their fears onto you. They think it's a bad idea for you because it sounds like a bad idea for them.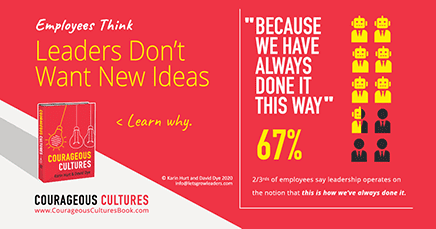 And, you NEED the right kind of challengers, the truth-telling trusted advisors who will help make you and your work better.
Sometimes it's hard to tell the difference, but it's worth it to look closely to get the support you need.
Your turn. How do you know the difference between a naysayer and an important strategic challenger?