Karin and Jess Pettitt, author of Good Enough Now, answer the question: "How do I become a more compassionate and skillful listener?"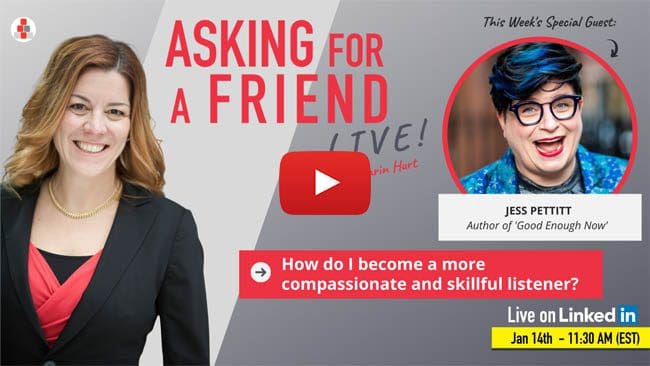 2:00 Jess shares what has been a source of inspiration and strength during this tricky time. She has been encouraged that people are still trying to have challenging conversations and have a higher tolerance level for the unknown. She also provides more info on her background and her desire to help people do the best they can with what they've got for some of the time.
4:47 What does effective listening / being a skillful listener look like?
True listening means that you ask a question that you have no idea what the answer will be.
Fill the space with curiosity and generosity.
Doing this some of the time is better than never.
Transactional listening is different than deeply listening.
Example: "Can you tell me where the bathroom is?" is a common question in the hospitality industry. Deeper listening is to not assume what the person coming up to you is going to ask.
How can I be most helpful here?
Sometimes, instead of asking a very specific question, saying "How's 'it' going?" or "Catch me up" (credit to Deb Fine) are more comfortable ways to show interest because they allow people to share what they want to about their lives at that time.
11:15 Considering the concept of pre-conceived judgment as you strive to be a skillful listener
Take responsibility to feel safe and prepared (i.e. preparing for interviews)
We make judgments so we can feel safe and prepared so we feel more prepared, but we aren't always accurate.
Go ahead and "write your story" with your judgments and lived experiences in it as a DRAFT (triple spaced, plenty of margins) leaving room for edits as you experience the situation.
Active listening means being curious and generous to make edits to your draft.
Whatever story you write can affect how you listen to people.
15:36 Listening to others as if they are wise.
Assume the person knows something you don't know.
Better connections are often what really matters.
19:09 Dealing with the hard topics on teams as a skillful listener
Shutting down these conversations is not listening.
There are individuals and there are groups. We often look at the people we disagree with as a group. We look at the people we agree with as a group. Individually, we want to be seen as an individual.
Be careful not to lump people together.
Figure out the complexities instead of swooping things into groups.
Listen with curiosity, generosity, vulnerability, and authenticity.
If you have the power to take a stand on something, it may be best to make that stand – strive for clarity. You may lose people, but you may gain/keep people who align with your values.
You could also take a stand on how we will show up to these conversations (i.e. with compassion and empathy)
26:11 When a leader finds out they are not a good listener, where should they start in improving?
Decide that you want to make a better connection rather than being right or winning.
Decide what format you want to use.
Don't speak – listen. How are they responding? What is their mood?
Form a message that is clear on the intended meaning.
How would you communicate differently if you were 100% responsible for whatever happens.
When comfortable with that, then have the conversation – you've already taken responsibility before you started.
Ask yourself if the connection is now better, worse, or neutral?
30:19 One last, best piece of advice
Do not underestimate who the person is or what they may be dealing with.
Allow people to show up the way they are showing up.
Tips for Being a Compassionate and Skillful Listener
(Even When It's Hard)
How to Build Better Connections (a Process)