The world has changed, and so has everything we know about becoming and remaining an effective leader, particularly when it comes to keeping your top talent! The effective leaders of tomorrow will do one thing: keep their top talent. In this episode, Dov Baron lays out the strategies for not only keeping your top talent but how to have them become Fiercely Loyal. There are no tricks and no shortcuts – but Dov gives you the fundamentals of human relationships that will drive retention, productivity, and connected teams that achieve amazing results together.
Fiercely Loyal
06:17 Ask yourself the question, "Is what I'm doing in alignment with my soul so that we're not sacrificing our humanity along the way?"
10:03  Part of the problem in leadership is we don't give ourselves a chance to emotionally mature because we want to be right. Emotional maturity in our leadership is responsibility. It's taking responsibility for ourselves, for our own development, for our growth, for where we are today.
18:41  How to find humanity in one another (and ourselves.) How to engage the soul of the people in your workplace.
21:41  An important aspect of leadership: listening with curiosity.
30:5   How to generate retention and build fiercely loyal team members.
33:45 What does courage look like? Courage is that leaders must go first. For instance, you can't wait for others to be vulnerable. You have to lead that way.
38:24  Whatever values we're trying to build in the world, organizationally, are we taking responsibility for the expression of those ourselves and then in our teams?
45:34  How do I help my team connect with the contribution that we are helping people to find that energy and connection?
Get Dov's Book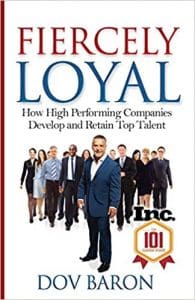 Connect with Dov