The Let's Grow Leaders A.R.T. Method of Advanced Accountability
Hi Karin, I've read Winning Well: A Manager's Guide to Getting Results Without Losing Your Soul. And, I love the I.N.S.P.I.R.E. method for difficult conversations. The coaching method works great much of the time. But, what do I do if one accountability conversation is not enough? #AskingForAFriend
How to Escalate an Accountability Conversation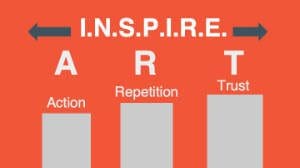 You've set clear performance expectations. You've checked for understanding. And, you've done a great job addressing issues as they arise.
So what do you do, if your employee is still not picking up what you're putting down?
Sometimes one conversation isn't enough. If this is happening, escalate the conversation using the A.R.T. Method of Advanced Accountability.
Each step of the A.R.T. Method continues to use the INSPIRE Method.
Then, as you move through the three stages of the method, your N – Notice step changes.
You will Notice different behaviors at each stage. Here's how it works:
Summary of the Let's Grow Leaders A.R.T. Method For Advanced Accountability
Action conversation – focus on the specific behavior.
Repetition conversation – focus on the repeated pattern of behavior.
Trust conversation – focus on the broken commitment and relationship.
See also: How to Start Team Accountability If You Never Have Before
(See more in How to Provide More Meaningful Performance Feedback).