New Resources to Support Your Team
"How do I support my team better, when there's just so little time?"
"I'm worried my one-on-ones are getting stale. How do I mix it up to better support my team?"
"How do I support my team by giving them what each person needs most?"
We take this week's Asking For a Friend to the next level as we launch our new on-one meeting resources page.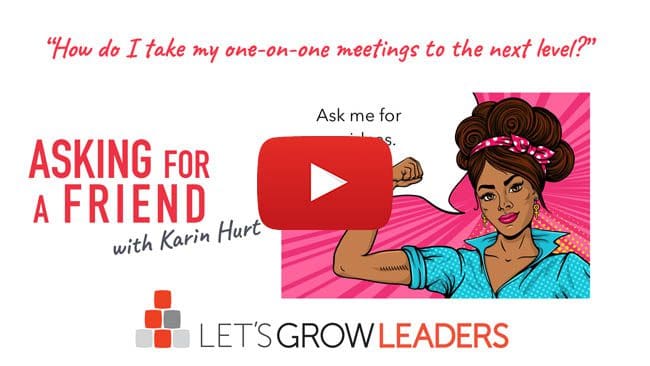 One of the simplest, most cost-effective ways to build trust and improve performance in your virtual team is a deliberate and well-executed cadence of virtual one-on-one meetings. Here are six topics both high-performing and struggling employees tell us they're yearning for in their virtual one-on-one meetings.
Your Employees Are Yearning For More in a Virtual One-on-One Meeting
Even before this transition to remote work, when we would ask employees about their experience with one-on-one meetings, we often heard nervous laughter and responses like these:
"One-on-one meetings, what are those (hahaha)?"

"She has an open door. She tells us to come by whenever we want. (Of course, she's never there. Hahaha)." I just wish she could carve out some dedicated time.

"I just count on windshield time with my manager between client visits. He's so busy, that's the only time I know I've got him captive (hahaha)."

"He just leaves me alone. I do a good job. I guess he would tell me if I was screwing up (hahaha)."
Obviously, these responses are less than ideal, but it's even harder to wing it now. So much is changing—and fast.
In the last few months, when we've asked employees about their one-on-one meetings, the tenor of the conversations has changed from nervous laughter to deep concern. Read more here on our new one-on-one meetings resource page.
Additional Resources to Support Your Team
Leadership Skills: 6 Competencies You Can't Lead Without
How to Build a Great Team Culture: Even if You're Not CEO
Stop Asking "How Can We Improve," Research Says the Best CEOs Do These 3 Things When Asking For Feedback