We're excited to share this special Thanksgiving edition of Asking For a Friend. Karin interviews Dan Rockwell, Leadership Freak, about how to be grateful—even during difficult times.
In this episode, we unpack some of Dan's recent and inspirational writing on gratitude, including the seven impossibilities of gratitude.
The next time you see red, look around for something to be grateful for.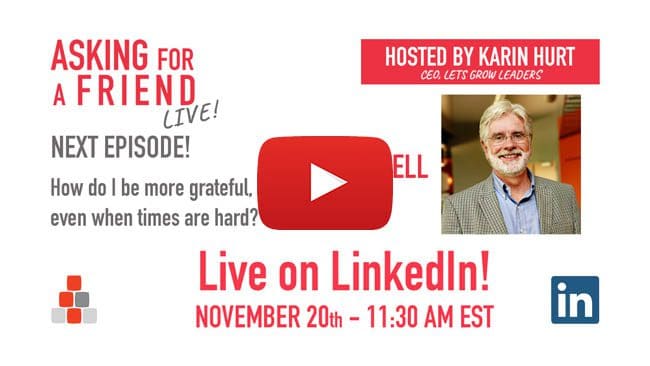 Avoid These Barriers to Grateful
An Excerpt from Dan's 7 Impossibilities of Gratitude
#1. Worry
You can't worry and be grateful in the same moment.
Don't worry about overcoming worry. Just notice and acknowledge benefit or advantage every day.
#2. Complaining
You can't complain and practice gratitude with the same breath.
Tip: Breathe in deeply and breathe out "thank you" like a silent meditation.
#3. Anger
You can't be grateful and angry at the same time.
About Dan Rockwell, Leadership Freak
Dan Rockwell – Leadership Freak – writes a daily leadership blog that is read on every country on Earth, except the Western Sahara.
Inc Magazine recognizes Dan as a top 50 leadership expert and top 100 leadership speaker. The American Management Association lists Dan as a top 30 leader in business.
Dan was brought up on a dairy farm in Central Maine where he learned to get his chores done. He currently lives in Central Pennsylvania with his high school sweetheart.
Dan expresses his passion for leadership and organizational development by giving presentations and coaching leaders.
See Also:
How are You Going to Make it Through the 2020 Holidays (Jesse Lyn Stoner)