Have a meeting for more bandwidth and speed.
Recently we were delivering a leadership development program when Annia, a senior leader in the firm, raised her hand and addressed the room: "I've noticed that many of us quickly send an email rather than picking up the phone or when we could have a meeting in person. I know I've done it too – you just want to get the issue off your list. Maybe I'm old-school here, but it seems to me that we can't build relationships or solve problems as quickly by email."
Some younger leaders in the room smiled sheepishly and admitted that they were very comfortable communicating by text, voice message, and email, but that they felt awkward on the phone. Others pointed out the efficiency or need for written communication. As they talked, Annia asked us for our insights about when to have a meeting or use other forms of communication.
The Communications Matrix
Your goal is to choose the form of communication that is most effective and efficient for the content you need to convey or discuss. The communications matrix can help you choose the format that will work best for your needs.
There are two variables to modern communication: time and location. People can communicate at the same time or at different times. Communication can happen at the same location or at different locations.
Let's take a quick look at the different types of communication that happen based on time and location:
Same Time—Same Place: Traditional face-to-face meeting.
Same Time—Different Places: This includes phone calls and video conferences.
Different time—Different Places: Email, text messages, podcasts, group chats, and recorded videos.
Different time—Same Place:  Posters, signs, and kiosks.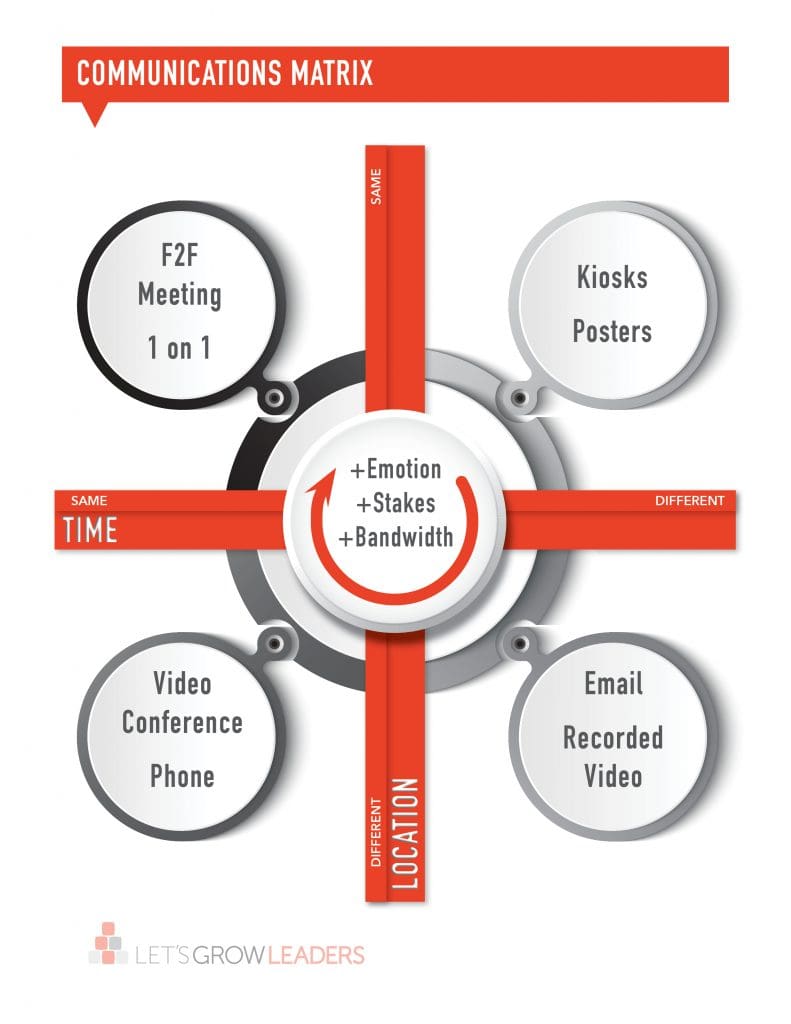 None of these forms of communication is always good or better than others. For example, it would be foolish to hold a meeting reminding everyone to remove their personal items from the refrigerator by Friday afternoon so it can be cleaned. A sign on the refrigerator door is adequate.
To choose the best form of communication, you've got to pay attention to content.
The Best Communication to Get the Job Done
When you're deciding whether to have a meeting, make a call, or send an email—think about the emotions involved, what's at stake, and the speed with which you need to act. Emotion, speed, and importance require bandwidth (the amount of information that given and received in an amount of time).
As you start in the upper right with posters and kiosks, those are very low-bandwidth forms of communication. It will take a while before everyone sees it (and some never will).
Move down to emails and text messages and the bandwidth increases. Everyone is likely to see the message and (if you've established team norms) and take action. Email is best for short amounts of information that don't require discussion and have little emotion.
Now, move over to the lower left where phone calls and video conferences increase the bandwidth. You can pick up meaning and emotion text doesn't allow and make decisions more rapidly.
Finally, as you move to the upper left quadrant with face-to-face meetings, you have the maximum bandwidth. The full spectrum of non-verbals, tone, inflection, and human connection allows you to decide more quickly, engage in higher-emotion conversations, and build relationships.
When to Have a Meeting
Effective leaders choose the best form of communication for their purpose. Like Annia recommended, when you want to build a relationship or talk about a difficult subject, use the highest bandwidth form of communication you can. Face-to-face if possible. If that's not an option, then video chat, and then a phone call. For a quick meeting recap, background information, or question, email is often perfect.
Leaders who haven't mastered the communication matrix send emails when they should have a meeting and call a meeting when an email would have sufficed. That wastes everyone's time and frustrates your people.
Look at your content and purpose, then choose the lowest bandwidth form of communication that will get the job done.
Your Turn
Leave us a comment and share your best suggestion for when to have a meeting vs sending an email.
You might also like:
Three Simple Secrets to Remarkable Meetings
How to Take Charge of Your Remote Meeting
Meetings that Get Results and People Want to Attend (podcast)
Should You Have a Meeting or Send an Email (podcast)