5 Mistakes to Avoid When Implementing an Action Learning Project Program
What is an Action Learning Project?
An action learning project is a real business challenge given to an individual or group of learners to:
Provide learners with an opportunity to strategically improve the business through recommendations and actions
Give participants an opportunity to reflect on what they are learning
Offer participants more executive exposure as they work with a sponsor and present their recommendations.
The Benefits of Including Action Learning in Your Leadership Development Program
Done well, action learning projects are one of the very best forms of leadership development.
A great action learning project program has tremendous benefits:
You get new ideas from fresh perspectives
Real work gets done
Learning is contextual
It reinforces training and makes it stick
Participants must manage through complex situations and team dynamics
It's a terrific opportunity to showcase talent to the executive team
Action learning projects provide a safe testing ground for high-potential talent
The business results provide an ROI that often more than pays for your training investment.
And, yet, poorly executed, action learning projects waste time and frustrate everyone involved.
So how do you ensure your action learning projects are worth the time?
Avoid these five common mistakes.
5 Mistakes to Avoid When Implementing Action Learning Projects
1. Floundering: "Crap, how were we supposed to know that?"
Participants get REALLY excited about their project and pour their heart, soul, and many long hours into making it happen. But they're oblivious to the political dynamics or bigger strategic picture.
They don't have access to the right people or all the information, and when they go to present their findings, they're met with a scowl, "Didn't you consider…?" "Why didn't you talk to…" "Don't you know so and so has already been working on this for three years?"
You've now had your high-potential employees spinning their wheels, killing themselves on top of their day job, and all this time they've been climbing rocky terrain in an unfamiliar land.
Sure, learning to stakeholder is all part of the learning but if the mountain is gnarly, a knowledgeable sherpa is only fair.
2. Fuzzy Guidelines: "What are we supposed to be doing anyway?"
Be clear on big rules, resources, and other parameters. If the real deal is they must solve the problem with no funding or other limitations up front, say so.
You want the best ROI on these projects and most strategic thinking. The companies we work with who do this best, spend solid time up front defining the projects and thinking through what's in scope and communicating any resource constraints.
If you want your team to think more strategically, giving them as much context as possible to think strategically.
3. The Wrong Players: "We thought this guy was high-potential?"
Action learning projects give participants exposure to executives.
Not all exposure is good exposure.
Be sure you pick the right talent who are ready for this experience.
Yes, stretch, but don't send them into the deep end the first day they learn to swim. We've seen people's careers seriously damaged from being pushed into such programs before they're ready.
4. Lack of Boss Support: "Yeah, no… I need you focused here."
Sure, one sign of a high-potential leader is that they can do THIS and THAT, meaning they pull off the work on this project while doing their day job.
But it's important for supervisors to understand the investment necessary in such programs.
If they consistently get in the way of participants attending meetings or doing their fair share, the high-potential participant can become very stressed worrying about balancing their relationship with their boss and preserving their reputation with their action learning team.
5. Failure to Execute: "Well, it seemed like such a good idea…"
Typically action learning programs result in recommendations with an assumed handoff to the appropriate team or department for implementation.
Be sure to secure the appropriate commitments. Nothing's worse than the "Whatever happened to that project?" feeling. A few false starts, and your action learning program will lose all credibility.
Done well, it's hard to top action learning for leadership development. Be sure your's is well designed.
Your Turn
We would love to hear about your experiences. Leave us a comment and share: what leads to a breakthrough (or even successful) action learning project, and what gets in the way?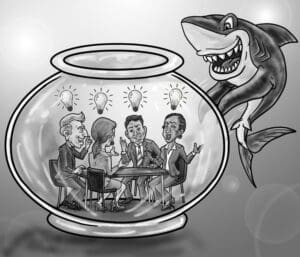 You might also want to check out our Strategic Leadership and Team Innovation Programs strategic leadership development programs including our Courageous Cultures Fishbowl competitions.
See Also:
Critical Thinking: 5 Ways to Increase Your Team's Capacity to Think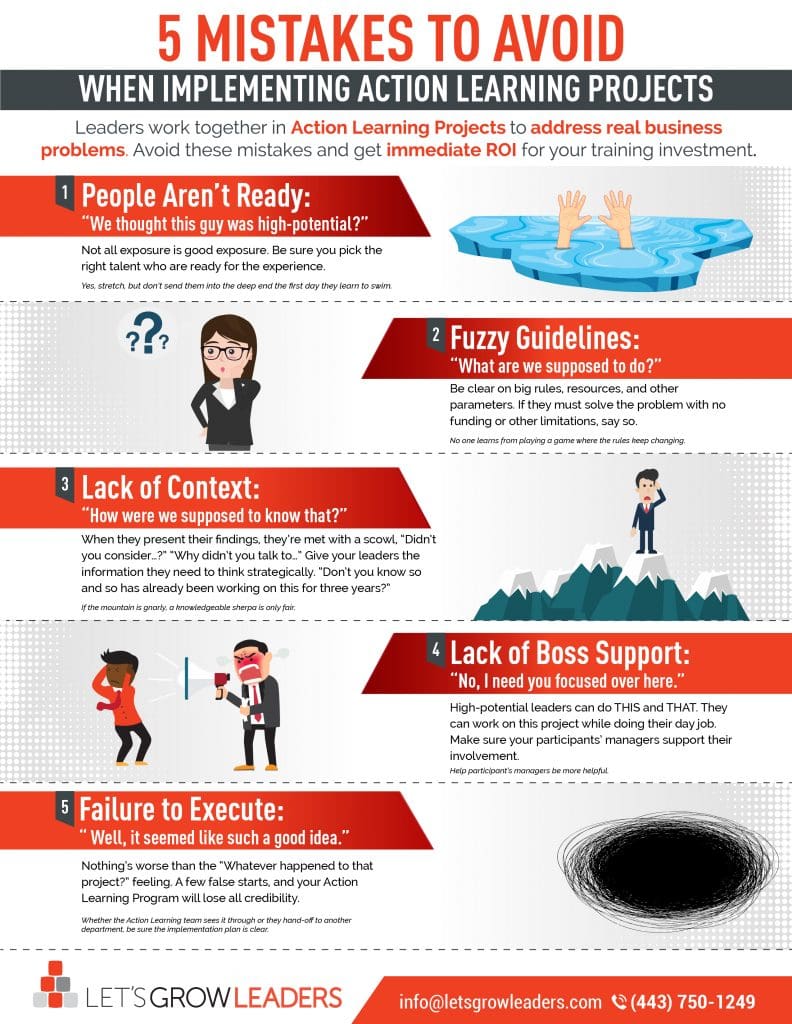 ---