Improve Your Customer Experience by Building More Empathetic Teams
When you call customer service you want to know 2 things:  (1) Does the person who picked up your call care about you and your issue? and (2) Are they capable of fixing it? In short, have you reached an empathetic human being who can resolve your issue?
You don't have to be a customer service expert to know within 20 seconds whether the human on the other end of the phone cares and is eager to help.
When we work with customer service departments, empathy is always identified as a top MIT (Most Important Thing). And yet it's also one of the hardest set of behaviors to train.
A Best Practice For Training Empathetic Teams (Care About Real Lives)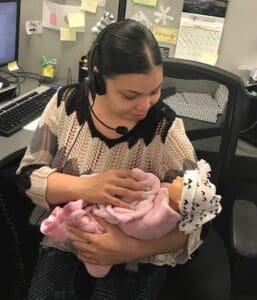 I recently did a follow-up visit to a client who had invested in one of our Let's Grow Leaders Strategic Leadership Programs. They had identified "Does the Customer Know How Much We Care?" as a top Most Important Thing ( MIT) and set about isolating the behaviors and building a focus on empathy into their training, performance management, and recognition systems.
They built a confidence-burst approach to encourage empathy. One day the representatives came in to find signs of a missing baby all over the office: a crocheted bootie, a pacifier, and some randomly scattered signs, "Has anyone seen baby Carl?" "What happened to baby Carl?" The representatives were intrigued. The entire center was talking about the baby Carl mystery during lunch breaks and between calls.
The managers had fun with this for a few days and then did what they call "the reveal." They transferred the calls to another center for a few minutes and brought in "Baby Carl," a carefully swaddled doll. "Remember how much you were worried about baby Carl? That's how concerned we need to be about every customer's issue. Every customer has real-life concerns like small babies to take care of or sick friends and family.
Baby Carl represents our mission to show our customers how much we care. Every call should start with CARL–Care About Real Lives."
The Results: More Empathy and a Better Customer Experience
As weeks went on, and a representative exhibited extraordinary empathy on a call– when they showed how much they CARLed (now a verb), they were awarded the Baby Carl recognition, had their picture take with Carl who stayed on their desk until someone was able to "steal" him back with a similarly empathetic call.
Every time someone won the Baby Carl award, the management team communicated exactly HOW the representative had shown empathy. Each selfie snapped with Baby Carl reinforced the empathetic behaviors they were looking to emulate. Representatives gained more confidence and competence as they showed up more consistently as someone who Cares About Real Lives.
One thing great leaders do is make the invisible, visible. Want your employees to show more empathy? Find ways to consistently make empathy visible, and celebrate the impact.
Your turn.
What are your favorite techniques for building more empathetic teams?