Moms are full of wisdom, aren't they? Many leaders credit their moms for their influence, such as:
Mama was my greatest teacher, a teacher of compassion, love and fearlessness. If love is as sweet as a flower, then my mother is that sweet flower of love.

~ Stevie Wonder
All that I am, or hope to be, I owe to my angel mother.

~ Abraham Lincoln
My mother said to me, "If you are a soldier, you will become a general. If you are a monk, you will become the Pope. Instead, I was a painter, and became Picasso."

~ Pablo Picasso
In honor of Mother's Day, we want to take the month of May to honor moms and their words of "Winning Well" wisdom. Things like:
Do your homework. (Get to know your employees.)
Don't be late! (Be true to your commitments.)
Call me when you get there. (Stay connected with your team.)
It's not whether you win or lose but how you play the game. (Concentrate on the game, not the score.)
Do your best. (Your competition is mediocrity.)
Because I said so. (Well, not all advice is perfect.)
How about you? What wisdom did you receive from your mom that helps you win well at work (and in life?) What did your mom teach you (or model for you) about the importance of balancing confidence and humility and results and relationships?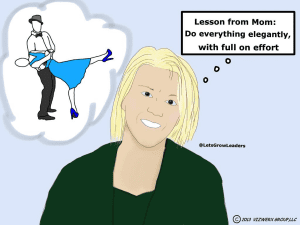 We'd love to see your answers and we know it would honor your mom, too!  Share a photo of it (even better if it's with you and your mom!) and tag it #winningwell on whatever social media channel you want. We'll watch for some to share on the site and our social media channels throughout the month!