My guess is that right about now, you could use some encouragement. Not meaningless cheerleading, but some well considered, well-timed, well-meaning "You've got this and here's how I know…"
In fact, I'd be willing to bet that the next five people you encounter could use some meaningful encouragement too. No matter how confident people appear on the outside, chances are they could use some encouragement to bolster their insides.
The Powerful Encouragement of a "Stranger"
Shep Hyken, bestselling author, keynote speaker, and past president of the National Speakers Association (NSA), was a stranger the day he offered me some best-in-class encouragement as I stepped off the stage at the International Customer Service Association conference. Now he's a friend.
Sure I had done a lot of speaking before, but only to internal Verizon crowds or to my outsourced call centers where I was "the client." This was different–no built in credibility. I wondered how my message would play outside the safety of my familiar world.
Shep smiled:
"Great job. When are you leaving Verizon to do this full time?"
"OMG Did I say that from the stage," I cringed, worried I might have inadvertently let out the secret I had yet to admit to myself.
"No. But it's obvious this is what's next for you. Let me know how I can help. You should join the NSA. Call me when you're ready to go and I'll help."
I did and he did.
"What advice do you have for how I can improve my speech?" I asked… and braced myself for the long list.
"Next time I'll listen with that in mind. But for now, just never end with questions. Close powerfully and exit. If the client wants questions, exit and then come back."
Powerful, simple advice. Thank goodness he refrained from the list of 37 things I now know I could have done better in that speech.
4 Ways to Provide Meaningful Encouragement
Meet them where they're vulnerable. Timing matters. Shep grabbed me right after I stepped off the stage when I most needed a thumbs up. Great encouragement is a metaphorical hug.
Help them envision a future self. Sometimes we can see more in people than they ever thought possible. Great encouragement is about possibility and potential.
Offer support. Great encouragement comes with investment. "I believe in you so much, I'm willing to help."
Coach with care. Yes, offer feedback but don't overwhelm. Great encouragement breaks down what's next into attainable steps.
Winning Well leaders seek out opportunities to encourage.
Who in your life could use some encouraging support?
Winning Well in the News
In addition to our Winning Well speaking tour, David and I are having a blast talking with the media. Here are a few of our latest gigs.
I was delighted to talk Winning Well on  School For Start Ups Radio.
And David had a blast in his interview with The Experience Pros.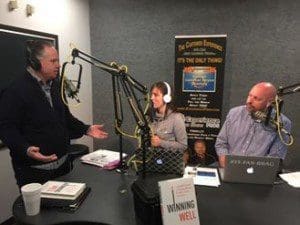 And for my call Center Peeps, see my ICMI video interview How to Be a Better Contact Center Manager. If  you're considering heading to the ICMI conference in Long Beach you can use my code WinWell to receive $200 off the conference registration.