Welcome back to the Let's Grow Leaders Frontline Festival. Our June Festival is all about new beginnings, fresh starts, and project launches. Thanks to Joy and Tom Guthrie of Vizwerx Group for the great pic and to all our contributors! Next month's Festival is all about leading through influence. How do you lead when you don't have direct authority?  New contributors welcome.
Every new beginning comes from some other beginning's end. – Senec
New beginnings and fresh starts are sometimes motivated by the desire to grow as a person. Which of these "A-Z" characteristics do you most want to enliven in yourself? Thanks, Beth Beutler of H.O.P.E. Unlimited  Follow Beth.
Wally Bock of Three-Star Leadership says that when you're starting a new project, it's tempting to think you can plan the error out of it. Think again.  Follow Wally.
Michelle Cubas, CPCC, ACC, of Positive Potentials, LLC shares that often the expression, "Chasing bright shiny objects" refers to them as distractions, and advocates to take a different perspective. Think of bright shiny objects as a source of energy or refreshment, such as the new car smell or getting a new bicycle!  Follow Michelle.
Chery Gegelman of Simply Understanding says that new beginnings and fresh starts can be exciting and fun, or signify a painful ending, or make you shake as you leave your comfort zone. But, yes, you can turn unwanted change into an adventure!   Follow Chery.
According to John Hunter of Curious Cat Management Improvement, innovation is one of the areas of management improvement that is not given sufficient attention.  To do so successfully we need to truly know our customers, have constancy of purpose, know our business and understand our purpose.  Follow John.
In the post, Five key questions that can help you start anew, Lisa Kohn from Thoughtful Leaders Blog shares that the chance for a new beginning is almost always welcome, and always a chance to reflect and refresh. Follow Lisa.
Jon Mertz of Thin Difference asks, "What if we stop settling for employee engagement and aim for employee activism instead?" Breathe new life into's your organization's community by leading a team of activists for your cause! Follow Jon.
Jeff Miller of The Faithful Pacesetters shares that it is sometimes a challenge to start something new, especially when you are met with resistance.  Peter believed, sacrificed, and had determination when he built the Church. Follow Jeff.
From Matt McWilliams of Matt McWilliams Consulting: "Launching a project is a great first step…but if you're like many of the people I coach, you're bigger problem is finishing them." This post will show you how to stop leaving projects half-finished. Follow Matt.
Jesse Lyn Stoner of Seapoint Center for Collaborative Leadership reminds us that fresh starts are important, but stay attuned to your purpose. Barbara Bennett, the first female officer of Stanley Black & Decker and one of the first women to break the glass ceiling retired and became a clown. Here's why that wasn't as big of a change as you might think. Follow Jesse Lyn. 
LaRae Quy of Mental Toughness Center shares that self-improvement is not a course in miracles. It is something that takes hard work. Perhaps the real secret to becoming a better person is coming to grips with the fact that everyone has to work "hard, very hard" to become the person they know they can be. Follow LaRae.
Linda Fisher Thornton of Leading in Context points out that on the journey to ethical leadership, we all struggle. This struggle is often seen as negative–something that pulls us down and keeps us from succeeding. But what if we looked at it another way? Follow Linda.
Dr. Artika Tyner of the Planting People. Growing Justice Institute knows that fresh starts and new beginnings start with discovering the leader within. This blog offers practical guidance for developing your leadership skills and making an impact in the world. Follow Artika.
And Larry Coppenrath brings it all together with his Frontline Festival map.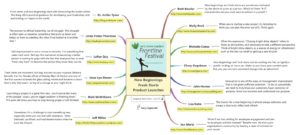 Call for Submissions. The July Frontline Festival is about leading through influence. Please send your submissions no later than July 17th. New participants welcome. Click here to join in!