This week has been hard here. We've lost my Mom who was vibrant to the end, at a slower pace than predicted–with a painful ending no one should have to endure. Some of my Mom's last words to me were "I just wish all this pain and suffering could help you write a really good blog post." She was kidding of course, but what the heck.
And because life rhymes, while all this was going on, I was invited to participate in a project gathering points of view on the meaning of life. It's an amazing line-up of powerful perspectives.
It's quite an undertaking, and I'm still working on my contribution. 
I also know that our true testament of what we value is how we choose to live. Our daily actions prove what matters to us.
Reflecting on what matters–matters–because it provides us with a daily gut check as to whether we're living that way.
What I saw as my Mom got sicker, was that what she valued and believed became crystal clear. With a morphine bag and from a hospice bed, I watched her repeatedly worry about the welfare of other people and improving the situations in their lives. Coaching the kid visiting from her church to pursue his musical talents, instead of hanging out with that crowd; wondering if all the flowers folks had sent could be re-used for the mother daughter luncheon she was still planning although she could not attend; apologizing because she wouldn't be able to help watch Sebastian when I travelled.
And so as a tribute to my mom, Jean Kohlenstein, this Mother's day, I share at least part of what I know gave her life meaning.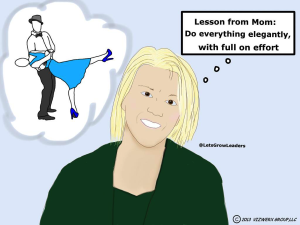 Showing up strong and doing something every day to add value (and doing it with class).
Other things that gave her life meaning: her 50 year marriage, her children and grandchildren, friends, church, art, poetry, knitting, humor, cookies, baseball…
Who else wants to play? How would you sum up your perspective on the meaning of life?