Strengthen Your Career Network By Leveraging Weak Ties
I would describe our meeting as a roll of the dice. Perhaps someday we will upgrade our relationship to "weak ties," but yesterday we were just two of eight hundred and fifty humans at the Great Ideas Conference chatting through our freebie Hyatt sunglasses over lunchtime brisket and gluten-free potato salad. "Joe," the CEO (named substituted for anonymity and rhyme), seemed genuinely intrigued by our LGL mission. He works with significant innovators (with a capital I– think people who will invent the next product you must have and will be willing to spend too much for.)
"Karin, what I'd be most interested to hear from you is how you build trust with weak ties. We depend on that. Getting true innovators to connect with and trust one another online and around the globe is a vital ingredient of real progress."
Game on. I've got perspective (as Granovetter's strength of weak ties theory is arguably my favorite communcation theory of all time), but I'm sure our LGL tribe is up to the challenge. Let's go help Joe (and others ready to go) make positive change in our world.
5 Ways to Strengthen Your Career Network: Build Trust With Weak Ties
All the components of the Green's trust equation still apply (credibility + reliability + intimacy/ self orientation)
1. Share expertise (Credibility)
To improve your career network, share your good stuff. Showing up with real expertise will attract other curious and innovative souls. The more people are talking about your ideas, the higher the probability of being introduced to other experts with complementary or challenging views.
2. Respect Others Consistently (Reliability)
I'm always amazed at the stupidity of those who check out credentials before helping. Or treat folks differently based on letters behind their name or klout scores. Discriminatory respect ignores the strength of weak ties theory. Treat everyone with deep respect and you'll be known as the "really great guy (or gal)" others "just have to meet." The brother of the intern you met in the forum may turn out to be just who you need on your next project.
3. Do What You Say (Reliability)
It's certainly easier to blow off a commitment to a weak tie than a colleague. You don't have to help everyone, but if you say you will, do.
4. Be Real (Intimacy)
Don't be a snob or tell us how wonderful you are, just show us through your ideas and engagement. Share a bit about yourself as a person. Be honest about where you're stuck. Whether you're around the world or sitting in the cube next door, human beings want to work with other human beings.
5. Give generously without expectation (Self-Orientation)
If you're just out for yourself, people will smell it and tell their weak ties. Social media makes it easy folks, to warn the world. In my own collaborations, I'm consistently being warned of when to steer clear. "Trust checks" are often only a DM (Twitter Direct Message) away. (See also:  7 Reasons Collaboration Breaks Down.)
People trust people who know what they're doing, who show up consistently with a generous heart. Be that guy, and your weak ties will quickly tighten into trusted bonds of true collaboration.
Other LGL Fun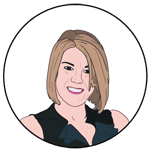 I've had some fun with media interviews this week. A Fortune article on the hottest job trends, and Blogging and Marketing Tips by Experts on FirstSiteGuide and a round-up of most vital leaderhip characteristics. Tip: Blogging is a great way to give generously. Check out Matt Banner's updated guide to starting a blog here.