This article contains some of my earliest thinking about confident humility. It's been fun to see the journey evolve into what later became our Winning Well model which was the bases of our book. Winning Well: A Manager's Guide to Getting Results– Without Losing Your Soul.
Early (2015 ) Thoughts on Confident Humility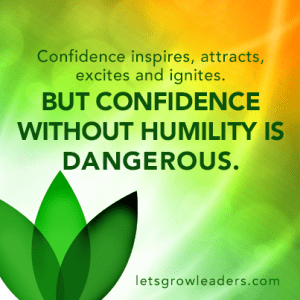 A participant in one of my sessions took me aside and said:
I totally agree with your concept. It's the execution that's hard. When I'm truly confident that my team can win, I'm able to calmly step back and humbly listen to their ideas. I know that sweet spot you're talking about where the real magic happens. But it's when I need that magic most, when my boss is breathing down my back, or I actually don't know what to do, that I start acting like a jerk and barking orders. Intellectually, it makes no sense. I know that behavior sets me back, but I keep getting stuck in the same patterns.
Confident humility is not a fixed state. Most of us are either more confident or more humble in certain situations. In order to help you think through this, I've created a confident humility self assessment based on a frequency scale. Take a look and see how often you do these behaviors–and which circumstances inspire or hinder your ability to be the leader you strive to be.
leading with confident humility assessment (click here to download PDF).
Situational Confident Humility
Confidence
In what scenes do you…
Bring significant subject matter expertise to the team?
Take a stand when needed?
Ask tough questions that make people think?
Humility
In what scenes do you…
Recognize your vulnerabilities and knowledge gaps?
Admit mistakes?
Feel more concerned about business results than who gets the credit?
Vision
In what scenes do you …
Help your team imagine possibilities they may have not considered?
Uncover potential?
Make a lasting impact?
Connection
In what scenes do you…
Invest deeply to get to know the business?
Take time to get to know leaders as people?
Listen carefully?
Ah, and as a bonus… my favorite tweet of the week.
#confidenthumility I like that… beats the hell out of #cockyshirtstuffers