Welcome to the Holiday Edition of the Frontline Festival: Expert Advice on Gifts and Giving. In addition to sharing their posts, I invited each thought leader to share their "leadership gift" in one or two words.
Engaging a Giving Spirit
Jon Mertz, Thin Difference shares The Unboxed Life: Giving To lead more fully, we need to unbox our life and engage our giving spirit. When we do this, we become more connected to our true self, our true mission, and our community. John's Gift:  "Listening well." Follow Jon @thindifference
Wally Bock, Wally Bock's Three Star Leadership Blog brings us Remembering the Legendary Christmas Truces  In 1914 and 1915, all along the Western Front, soldiers simply stopped fighting and celebrated Christmas. It is a true tale about gifts to remember to ponder. Wally's Gift: "To me: the importance of integrity; From me: the nobility of work"  Follow Wally @WallyBock
New to the Festival, Bernie Nagle, ZunZhong  brings us BlessingState – Sharing Our Gifts  We transition from spirit to physical existence, purposely endowed with an abundance of gifts. Our mission as physical beings is to share our gifts to depletion. Benie's gift:  "Empathy."  Follow Bernie @altrupreneur.
Regina Verow, Creatively Conscious, reminds us give ourselves the gift of rest this holiday in her post True Gifts.  Stay tuned for the Creatively Concscious meets Let's Grow Leaders collaborative Xmas music video on Dec. 23rd along a similar vein. Worth checking back here for a holiday giggle. Regina's gift: "Creativity" Follow Regina @ReginaVerow.
Gift Ideas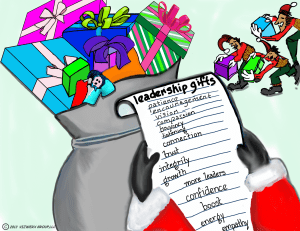 Joy and Tom Guthrie, Vizwerx Group,  share Leadership Gifts (pic right) Follow Joy and Tom @VizwerxGroup Joy's gift, "Vision."  Follow Joy @Joy_Guthrie.
New to the Festival, Barbara Kimmel, Trust Across America offers her gift, Twelve Months of Trust for 2014 With the right plan, any leader can build trust! Trust Across America – Trust Around the World offers this 2014 gift to all leaders – twelve months of trust-building activities. Barbara's gift: "Building Organizational Trust." Follow Barbara @BarbaraKimmel.
David Dye, Trailblaze, shares 45 Fantastic Leadership Gifts to Give and Receive David provides an encouraging list of gifts effective leaders give their teams as well as motivating gifts leaders receive, David's gift: "People who always believed in me."  Follow David @davidmdye.
Matt McWilliams, Life. Leadership. Love. Learned the Hard Way offers  How Do People Really Want to be Treated? The upside of "preferential treatment," including gifts. Matt's gift:  "Motivating others and celebrating success." Follow Matt @MattMcWilliams2.
Julie Winkle Giulioni, JulieWinkleGiulioni.Com offers  Top 3 Gifts Employees Want Most this Holiday Season (and All Year Long). Why not give employees something they really want this year – a gift that will keep giving long after the egg nog is gone? Consider something from this Holiday Gift Guide… for leaders who want to delight employees and deliver results. Julie's Gift: "Empathy and the ability to stand in other's shoes." Follow Julie @julie_wg.
Julie Pierce, Empowered By Pierce, brings us 3 Empowering Gifts for Those You Lead Seriously considering gifting your team with Duck Dynasty bobbleheads this Christmas? Leadership Coach Julie Pierce comes to the rescue with 3 thoughtful and empowering gifts for those you lead. Julie's gift:  "Powerful questions." Follow @julie_pierce
Tanveer Naseer,Tanveer Naseer Leadership, brings us Making Feedback A Gift For Your Employees Giving feedback doesn't have to be difficult. Discover 5 steps leaders can use to transform the act of giving feedback into a gift for their employees Follow Tanveer @TanveerNaseer.
New to the Festival Sean Glaze, Lead Your Team Blog shares How to Give the Gift of Advice  Learn how to give the gift of advice so it can be received. Sean's Gift: "Appreciation." Follow Sean @leadyourteam.
Receiving Gifts
Jesse Lyn Stoner, Jesse Lyn Stoner Blog, shares  It's Easier to Give Than to Receive, But Not Necessarily Better It is easier to give than to receive, but not necessarily better. Allowing others to help you is a sign of strength, not weakness. Here are 9 reasons why it's better to receive. Jesse's gift: "Listening"  Follow Jesse @JesseLynStoner.
Lolly Daskal Lead From Within, offers The GIft of Receiving She inspires us to be more than great givers, but to also accept the gift of receiving? Lolly's Gift:  "Lead with heart; lead with love; lead from within" Follow Lolly @LollyDaskal.
Joan Kofodimos, Anyone Can Lead, shares How Hardship Creates Leaders In my experience, some of the greatest gifts don't initially look like gifts at all. This post considers how hardships are a gift to us as leaders, if we can open to the lessons they offer. Joan's gift: "The ability to honor one's true purpose." Follow Joan @JoanKofodimos.
Encouraging Gifts and Talents
Renee Ruchotze, Growing VItal Leaders, shares The Gift of Being Called How does it feel to be seen as a leader by someone you admire and respect? Renne's gift:  "A balance of heart and head." Follow Renee @Vitalleaders.
Kate Nasser, Smart SenseAbilities(TM) offers, 25 Incredibly Valuable Gifts Your Employees Give To become a great leader, learn to spot, mentor, and appreciate the gifts of those you lead. This is how you inspire and engage employees to full commitment. Appreciation! Kate's gift:  "Emotional Intelligence" Follow Kate @KateNasser.
Mike Henry Sr., Lead Change Group, shares the The Zen of Employee Motivation One of our best posts this year on the importance of understanding everyone is a volunteer. As a result, their energy, skills and effort are gifts, given to you, the leader of the effort. David M. Dye challenges us to remember to treat everyone as a volunteer and to appreciate the gift they give us when they join! Mike's gift: "Years of experience leaning how to influence without position." Follow Mike @mikehenrysr.
 Bill Benoist, Leadership Heart Coaching, offers The Gift of Leadership Looking for that special gift this holiday season? Something meaningful. Something that will make an impact. Something that will be remembered. I know of a special gift, but it's not one I can give you. Bill's gift: "Trust." Follow Bill @leadershipheart.
New to the Festival, Tracy Shroyer, TracyShroyerPhD.com, brings us No Longer a Passenger  An event that initially felt like punch in the gut eventually changed me for the better. Has something happened in your life that may have upset you at first, but then you realized it was a real blessing because it helped you to change for the better? Tracy's gift is "Being genuine." Follow Tracy @tshroyer2.
Lisa Kohn, Thoughtful Leaders, shares The Value in Giving There are many gifts that we receive, for which we can be grateful. But the greatest gift is the ability to give. This month is a wonderful time to give – to give actual gifts and to give of ourselves: our time, our attention, our friendship, our love, and our support. May you practice giving and have a month full of gifts! Lisa's gift: "The ability to give." Follow Lisa @ThoughtfulLdrs.
Skip Prichard, Leadership Insights, brings us What's Your Yes What's Your Yes  Life is about discovering your gifts (your yes) not your limitations (your no). Learn how to be defined by your "yes", your unique gifts that have you performing in your strength zone. Skip's gift: "Expressing." Follow Skip @SkipPrichard.
John Hunter, Curious Cat Investing and Economics Blog, brings us, Giving More Than Money to Charity. Volunteering your time and expertise is often more rewarding to those you help and yourself. Follow John @curiouscat_com.
Embracing Your Inner Grinch
Dan Rockwell, Leadership Freak shares How to Rise Above Gift Exchanges at Work. Office gift giving is an awkward obligation. How to avoid, or make the best of, gift exchanges at work. Dan's gift:  "Developing Others." Follow Dan @Leadershipfreak.
Coming Soon
January's Frontline Festival will be curated by David Dye of Trailblaze. The topic is "Leading Up and Sideways." Please click here to submit your link.