In the spirit of Thanksgiving, November's Frontline Festival is about forms of Gratitude. I am grateful for my amazing colleagues and subscribers for your contributions and comments. Please comment at the bottom of this post, as we celebrate our gratitude together: What are you most grateful for this Thanksgiving?
How to Give Thanks and Praise
Frank Sonnenberg, Frank Sonnenberg Online, offers Ways to Say You Care There are many ways to say that you care. This free, downloadable poster provide some clever examples. Follow Frank @FSonnenberg.
Matt McWilliams, Life. Leadership. Love. Learned the Hard Way, brings us How to Write a Thank You Note  The title says it all. Some people are intimidated by writing great thank you notes…but Matt will show you how. In fact, Matt is offering a free ebook on Gratitude. Follow Matt @MattMcWilliams2.
Dan McCarthy, Great Leadership, shares 10 Questions and Answers for Managers about Praise  "Praise is one of the most misunderstood, powerful, and underutilized management skills. This post is a reenactment of an actual coaching conversation I had with a manager who sincerely wanted to learn how to praise but didn't have a clue how to do it." I love this practical and useful list. Follow Dan @greatleadership.
Tanveer Naseer, Tanveer Naseer Leadership brings us, How Two Simple Words Can Energize Your Team and Grow Your Business "Research has shown that expressing gratitude is not only a nice thing to do, but that it can fuel employee motivation and drive organizational growth." Follow Tanveer @TanveerNaseer.
New to the festival Julie Pierce, Empowered by Pierce, offers  5 Simple Ways to Thank Your Team People are blown away by simple expressions of praise, affirmation and gratitude. This post offers five simple ways to thank your hard-working team. Follow Julie @julie_pierce
David Dye, Trailblaze, brings us, Do They Know? If you lead to bring out the best (not wring out the worst), David suggests that everyone is a volunteer and everything your team does is a gift to be received with gratitude. Follow David @davidmdye.
The State of Gratitude
Wally Bock, Three Star Leadership, brings us Say "Thank-you" Gratitude is the secret of a happy life. Follow Wally @Wally Bock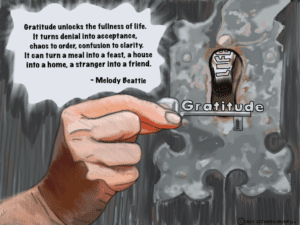 Joy and Tom Guthrie, Vizwerx Group, LLC share their wonderful strategic art (right).
Greg Marcus, The Idol Buster shares Be Grateful for the Good and the Bad  Gratitude in times of trouble brings strength, and puts energy towards the solution. I enjoyed the powerful and poignant stories he shares. Follow Greg @gregmarcus2.
Mike Henry Sr, of Lead Change Group offers Gratitude for Weakness Four ideas about how weaknesses make me humble and a better team member. Mike shares a beautiful exercise worth trying this Thanksgiving. Follow Mike @mikehenrysr
Lisa Kohn, of Thoughtful Leaders Blog, brings us I don't have to be grateful after today…do I? "Drivenness can work against us, where nothing is quite good enough and we're never satisfied. Lisa offers thoughts and ideas for keeping the Thanks-giving spirit alive even after the holiday is over. Follow Lisa @ThoughtfulLdrs.
Carrie Koens, Carrie's Busy Nothings, shares Three Years of Thankfulness  "Looking back over 3 years of daily thankfulness, and how it has changed my outlook and my life." I invited Carrie to join this festival because I'm always inspired by how she shares her gratitude, daily, through social media. Follow Carrie @CGKoens.
Alli Polin, Break the Frame, shares  Ditch the Stress; Choose Gratitude  She shares how 5 minutes can change your frame around gratitude. Follow Alli @AlliPolin
Also a new to the Festival, Regina Verow, Creatively Conscious, shares How To Change The World One Tiny Step At A Time She shares fantastic suggestions on how each us can make a real difference in the world, including "radical gratitude." Follow Regina @reginaverow
Grateful For Work
Jennifer Miller, The People Equation, shares My At-Work Gratitude List This post puts a spin on the tried-and-true Gratitude List – by bringing it into the workplace. What are you grateful for at work? Follow Jennifer @JenniferVMiller
Julie Winkle Giulioni, Julie Winkle Giulioni, brings us Context Changes Everything This post starts with gratitude and moves on to discuss how when employees understand the bigger context of the workplace, it can change everything – from how they work to how they feel about their work. Follow Julie @julie_wg
Jon Mertz, Thin Difference, offers Democracy: 5 Ways You Can Make It More Meaningful  "Our democracy gives us so much to be grateful for and, in our gratitude, comes a responsibility to do more and participate in meaningful ways." Follow Jon @ThinDifference
Family Inspired Stories of Gratitude
John Hunter, Curious Cat Management Improvement Blog, shares Respect for Everyone, inspired by his Father. "He made a big difference to people by improving the management system within which they worked, but what they remembered was the face to face respect he showed to everyone." Follow John @curiouscat_com
Kimunya Mugo, Lead By Choice shares Gratitude – a Leader's Hallmark At three o'clock in the morning, our 4 years old daughter called out, "Daddy, I want to go to the toilet!" I did my daddy duty… When I was done, she cheerily said to me, "Thank you daddy." A wonderful reminder of the power of the simple acts of gratitude.  Follow Kimunya @KimunyaMugo
Bill Benoist, Leadership Heart Coaching, shares his poignant post Holidays and Family. "I like to keep these weekly posts about career and leadership, but sometimes we need to remember family too, especially around the holiday season. Not only remember our family, but the families of those we work with." Follow Bill @leadershipheart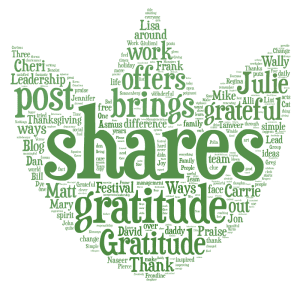 The December Frontline Festival is about Gifts and Giving (open to interpretation). Submissions due December 13th. Click here to submit your post.