Don't Jeopardize Your Talent Strategy With This Big Mistake
As you formalize and add more rigor to your talent strategy and focus on your nine-box grid, be careful that your focus doesn't become overly myopic. The best talent strategies help all employees to grow. 
A Tragedy from Behind Closed Doors
I was in a contact center executive role when "Sara" a young manager on my team called me, clearly fired up about a potential opportunity. It had been a long time since I'd seen such energy and excitement from her.
"Karin you know how you've been encouraging me to take a lateral move to broaden my experience? Well, the perfect job just came open in the quality department. I can really imagine myself in it. I know I would do an amazing job. Can you call HR and put in a good word for me?"
I was glad to see Sara coming around and open to a lateral move. Most of our previous development conversations were overshadowed by her frustrations of why she was not getting promoted.
I knew she had potential, but she also had some growing to do.  And, she was right. This support staff role was PERFECT for her and would give her the experience and perspective she needed before I'd feel confident putting her into our succession plan for the next level.
I called HR immediately to ensure she would get a chance to interview for this lateral move.
Where Talent Strategy Conversations Start to Break Down
"I'm sorry Karin, you don't have Sara listed as high-potential in our system. We've been told to reserve all lateral moves for succession candidates."
Huh?  Wait, what? That's a thing for lateral moves?
I understand using the succession planning process to define pools for promotions, but were we really going to stop developing everyone else?
Besides, if a solid performer can't be promoted, and can't move laterally, are we really going to just let them stagnate in the same job? Are we going to let them fall into a discouraging rut?
Surely this well-meaning HR person was confused, bless her heart. So I called her supervisor to clear things up.
The conversation with her boss went like this:
"Well, I'm not saying we'd never consider Sara for a lateral move, but it's against our new policy. Maybe you accidently (wink wink) put her in the wrong box.  I can move her to high-potential now if you'd like, and put her on the slate."
Wait, what? Now we need to game the system?
Why Developing Only High Potentials Can Derail Your Talent Strategy
Talent reviews are an important part of a healthy succession planning and development process. I'm a big believer in a solid 9-box process and have facilitated hundreds of such conversations over the years, both as an HR leader and now with our clients.
They help you prioritize your leadership development focus and investment, ensure you are developing diverse talent at every level, identify clear paths to accelerate growth, get the right people in the right seats, and expand parochial thinking about talent— getting past the notion of "my people" and "your people."
And yet, even good systems can have dangerous side effects.
A few reasons to take a broader approach to development:
1. Organizations and priorities change.
After the Sara incident, I went back and looked through all the talent review grids I had saved from my previous role as HR Director.
I was so curious to see who we had identified and where they were now.
Some of the people from the best parts of the grid had since been promoted and their careers were thriving at our company.
But, interestingly, other high-performance-potential candidates had been recruited away. Sadly some of the box 9ers we had invested in the most had been caught up in mergers, downsizing, and other drama and been forced out.
There were also managers who had been once deemed lower potential now holding significant leadership positions. They hadn't received much formal development.
2. Potential is subjective.
Every leader has their own definition of what constitutes high potential. Even with reasonable calibration, politics, personality, and favoritism can get in the way. This is particularly tricky if managers learn they have to game the system for their people to be even considered for a lateral move.
Well-intentioned, overly-stringent guidelines will encourage leaders to create workarounds to find the flexibility they need.
3. You'll lose solid talent.
And of course, the most obvious challenge is that if employees feel stuck, they'll find a way to get unstuck and go somewhere they can continue to grow.
Use this Development Discussion Planner to help your employees prepare.
One of the biggest reasons people tell us they only focus on developing high-potential talent is a lack of time. With a little effort, you can ensure every employee on your team has an up-to-date career development plan.
I'm sharing this tool we use in our long-term leadership development programs to help managers hold more effective and efficient development conversations by inviting their employees into the process. You can download the PDF here.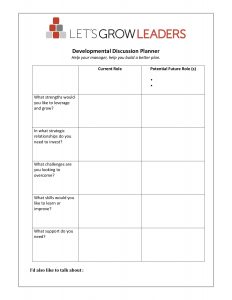 Ask your employee to reflect on both their current and desired future roles and answer the following questions.
What strengths would you like to leverage and grow?
Leveraging strengths is a great way to start the discussion. How can you test and build upon these strengths across a variety of contexts? Once the discussion moves to action planning, think about ways you can pair up your team members to help one another.
In what strategic relationships would you like to invest?
Often the most important work to get ready for the next level or a strategic lateral move involves building more influential relationships. Encourage your employees to think about where they need to invest in relationships for their current role, as well as future roles. Who can help champion, sponsor, prepare for, and give them a taste of their desired future?
What challenges are you looking to overcome?
This is an important calibration point. You want to know if they know what's holding them back. Much better to start with their perspective before adding yours.
What skills would you like to learn or improve?
Our training clients often tell us that they are often surprised by the answer to this question. Giving your employee some time to think about this in advance will lead to a meatier list.
What support do you need?
Ask your employee to come with a specific "ask." This helps overcome the two most frequent answers to this question, "I don't know" and "I haven't thought about it."
See Also:
9 Creative (Low Cost) Ways to Develop Your Managers
The 5 Biggest Succession Planning Mistakes
6 Secrets of a Utility Player: How to Hire for Indispensible
How to Help Your HR Team Be More Strategic