How to Succeed Despite a Frustrating Boss
The ability to influence the people you report to-especially a frustrating boss-is as essential to your leadership success as the ability to influence your own team. Ask yourself these five questions before you try to manage up.
I sat across from Jim, the Executive Vice President, and made my case.
I suggested the company change the way it handled a specific process and made my five-point argument why it was a good idea.
The VP listened, grimaced, and then grinned. "If only it were that easy."
"But it is that easy," I challenged, "It's just a matter of having the will to do it!" (I was young and hadn't quite learned diplomacy yet.)
Fast-forward thirteen years.
A new team member stood on the other side of my desk—standing in the same place I had once stood, presenting the same case I had made thirteen years earlier.
But this time, she was speaking to me. Now that I was the executive, would things would be different?
Managing Up Starts with Perspective
In nearly every leadership training program we deliver, someone asks "How should I talk to my boss when their behavior is damaging, self-defeating, or just doesn't work?"
The answer to this question starts with perspective. A frustrating boss's behavior may look very different from where they sit. Their behavior may look damaging or self-defeating to you, but it's possible that this is only your interpretation and they have excellent reasons for doing what they do.
The better you understand your boss's goals, challenges, and how they see the world, the more influence you will have. You don't want to rush into a conversation without this perspective.
5 Questions to Ask Yourself When You Have a Frustrating Boss
When you face a supervisor whose behavior appears to be damaging, self-defeating, or ineffective, the first thing to do is to reflect. Here are five questions to ask that will help you get perspective and be more influential.
1) How serious is the issue?
After you talk with a friend, take a walk, and breathe, is the issue truly significant or just a minor irritation? If it's not serious, you're better off to not waste your time, energy, or relationships–even if you are 100% right about the issue.
Save your energy and influence for the topics that truly matter.
2) What's the lesson for you?
Yes, the lesson for you.
You won't find a better leadership textbook than the leaders around you—including your frustrating boss.
When Jim told me, "If only it was that easy," he was giving me a chance to learn about strategic issues and think at a higher level.
After my stubborn insistence that it could work, he was patient and walked me through the world from his view. I didn't like the more complex viewpoint, but I needed to hear it.
The areas that irritate you the most likely have the most to teach you.
3) What keeps your boss or boss's boss up at night?
Jim had his own challenges and constraints. Up until that moment, I was unaware of them.
He had Board politics to contend with, budget constraints, obligations to other departments, and changing customer behaviors, just to name a few.
This was an important moment of insight for me. People do what makes sense to them.
What realities do your supervisor and their boss deal with every day? How can you help them meet their goals?
4) What's my motivation?
Before you talk to your boss, get clear about what your best self really wants. Are you asking for something that's in the best interest of your team, the organization, and your supervisor?
If not, your motivations will impact your actions and you likely won't have a chance to get the results you want.
For the best chance of success, focus on how you can build a relationship with your boss and achieve results for everyone involved.
5) Should you stay or go?
You cannot change anyone else. I wish I had a fairy-dust suggestion, but the fact is that there are some bad supervisors out there. They do what they do because it's easy, because it's what they know, they have different values, or because it works and meets their needs for the time being.
Understand who you're working with and how they might react.
If they lack integrity, are hostile, insecure, and you need this paycheck to care for your children, you'll deal with the situation differently than if you have six months of expenses in the bank and your supervisor is reasonable.
We've been there. And we encourage you to think this through carefully.
Influencing your own supervisor is possible, but depending on the person, it takes work, time, and a relationship.
And sometimes … they simply won't change at all. They don't see enough benefit to go through the pain of changing. In these situations, you'll have to decide if it makes sense to stay or to leave.
As tough as these choices are, they help clarify the power you have over yourself and the leader you will be.
When It's Your Turn
As you work with your frustrating boss, remember that you are or will be the source of frustration for someone else. We're all someone's knucklehead, after all.
How can you use what you learn from your irritating boss to inform your leadership?
With the young woman who stood on the other side of my desk, presenting the same arguments I had made thirteen years earlier—I tried to do what Jim had done for me. I thanked her for thinking about how we could improve, shared the information she didn't know, and invited her to think about solutions so we could make it work.
And, What If Your Boss is Really a Jerk?
See Karin's special "Game of Thrones" Edition of Asking For a Friend. How to Deal with a Jerk Boss.
More of your Asking For a Friend questions answered here.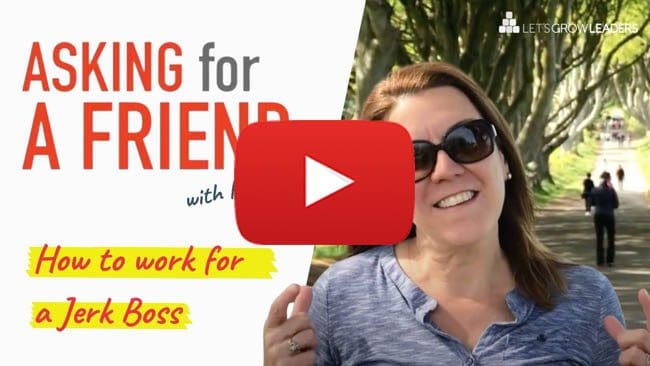 How to Succeed with a Frustrating Boss
Start by asking yourself these five questions:
1. How serious is the issue?
2. What's the lesson here for me?
3. What keeps my boss (and boss's boss) up at night?
4. What's my motivation?
5. Should I stay or go?