I was blown away by an email I received from a woman who recently read Winning Well.  I was touched on so many levels…by her brave journey toward authenticity in the workplace, by her clear sense of confident humility, by her gratitude for accepting leaders and an inclusive workplace, and quite frankly by the fact that there are Winning Well CEOs out there looking for other Winning Well leaders who have the ability to value competence and confidence over all the other crap that gets in the way of awesome results and incredible professional relationships.
I am so grateful that she took the time to write…and for her willingness for me to share her story with you. As you read, I invite you to reflect:
What would it mean for you to show up authentically with your team?
Am I creating a team environment where people can show up with their authentic best self?
Here's an excerpt (shared with her permission):
"I just finished reading Winning Well (it'd been on my Amazon pre-orders list for more than a month, and I devoured it as soon as it arrived) and wanted to reach out to thank you and David for a fantastic book. Your book made explicit a lot of things I've been doing intuitively, and highlighted some places I can step up and do even better. I'm super excited to put those things into practice and to continue to grow my leadership skills as a result.

I also wanted to share with you my story about the power of authenticity and vulnerability, because I truly believe it is the key to everything I have achieved in my career in the last few years.

A bit about me: I am presently managing a technical team of what are essentially technically oriented project managers (and she shares her very powerful work history and accomplishments)

I am also a transgender woman, who transitioned while living in Silicon Valley 17 years ago, during the peak of the dot-com boom.

During the years my ex-spouse and I ran our consulting company together, I never talked about my past or my transition with anyone save a few close friends. My ex was scared it would cost us the respect of our clients and, ultimately, their business. It turned out that most of them knew anyway – and, as in your story in your book, it turned out that I'd damaged their faith in me and their trust in our relationship by hiding who I was.

When my ex and I divorced in 2012, I vowed not to make that mistake again. And, in fact, in my subsequent job search, I made the decision that I was going to be up-front and honest about all of my life experiences and how the lessons I learned from them – compassion, tenacity, determination – made me who I am. If a company wanted to look at all that I had to offer and then not hire me because I am transgender, I reasoned, that was a sure sign that it was the wrong company for me.

The final of five interviews for my first role at my current company was with the CEO and co-founder. "He likes to talk about our Core Values", the recruiter had told me, so when I came into the office I'd already reviewed and thought about those Core Values. "So, tell me why you want to work here," he asked me, and I just started talking. I talked about my experience as a transgender woman and the obstacles I'd overcome to becoming my true and most fully realized self. I talked about the myriad changes happening in my life at that time – 2013 was the year I divorced, moved to a new city for a new job, turned 40, and saw my adopted daughter turn 18 and move out on her own. I talked about my personal core values and where I saw alignment with my company's core values.

In all, I probably talked for about 35 minutes. At the end of that time, the CEO looked at me from the other side of a small round conference table in his office. "I've scheduled an hour for our interview," he told me, "and I'd like to spend the rest of the time getting to know you better. But I have to tell you, you're the most interesting person who's walked into my office this week, and you have to come work here."

He still says that his conversation with me is the most memorable job interview he's ever done. As a result of my willingness to be authentic I've built relationships all over my company, I've been promoted twice in three years, I have the respect of my leadership, my peers, the folks who I serve as a manager, and other employees all over the company. And as a result of that, I'm able to keep achieving the results I do,  for my team, for the company, and for myself. (One example: after 17 years of waiting, I finally had gender confirmation surgery last year – and, again, thanks to my willingness to engage in authentic dialogue, my company covered the cost on their health insurance.)

Authenticity is the key to relationship-building, I think, and relationship-building has been my superpower career-wise.

Anyway, since you talked at some length about authenticity in your book, I wanted to reach out to share a bit of my story, and to say thanks again for a terrific book. I really enjoyed it, and it's definitely given me some new ways to think about what I do as a manager."
This important note really made me think about all the other stories of authenticity I may be missing, even from my regular readers. If you, or someone you know, has such a story, I'm more than ready to listen. I'll never share anything without your permission. Please reach out to me at [email protected]
FREE WEBINAR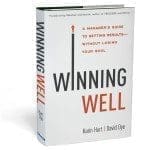 Join me on Thursday, March 31st at 2pm EST for a FREE Webinar: Winning Well: Managing the Art of the Tough Conversation With Your Employees. Click here to learn more.