Delighted to offer an expert collection of thoughts on values and vision. Inspiring and practical advice. Thanks to all who shared their wonderful insights.
Values
Amazing stories and practical advice related to defining, articulating and living your leadership values:
Skip Prichard, Leadership Insights shares Learning From the Legacy of Johnny Cash. Johnny Cash had a powerful set of values guiding his life. He pursued his own dream while inspiring millions. Follow Skip @SkipPrichard
Lolly Daskal, Lead From Within, shares Voice Your Values. It's not just enough to have values, we need to articulate them for ourselves and others. Be inspired by Lolly's tweets @LollyDaskal
Chantal Bechervaise, Take It Personel-ly shares Leadership offers 4 Ways to Act With Integrity And Humility. For more being in a position of leadership is hard work and you need to keep earning it every day. Follow Chantal @CBechervaise
Linda Fisher, Leading in Context brings us Leadership Responsibility: The Movement. It is becoming increasingly clear that responsibility is not optional in a global society – it is at the heart of our leadership when we lead well. Learn more from Linda @leadingincontxt
Scott Mabry, Elumn8, offers Speaking of Leadership Part One – 5 Phrases That Connect. Words have tremendous power. In particular when they come from someone we respect or who is in authority over us. Successful parents, teachers and leaders of all types recognize the importance of instilling belief and confidence in the hearts of those whom they love and serve. Find Scott @scott_elumn8
 Vision
Great posts and inspiring stories on why vision is critical and how to build and live it:
Jesse Lynn Stoner, Seapoint Center, hosted a great series The Value of Vision which she summarizes in How Important Is Vision in Leadership, with excerpts from Wally Bock's response. You can catch links to all the post in the series in this summary. Find Jesse @JesseLynStoner
Jennifer Miller of The People Equation shares The Power of Believe – and How It Influences Your Vision. Powerful belief can cause people to see things that aren't really there. As a leader, are your firmly held beliefs clouding your vision? More from Jen @JenniferVMiller
Frank Sonnenberg, FrankSonnenbergOnline brings us Leadership: Creating a Vision. Leaders must create a shared vision that shapes the way employees feel about their organization. They must make the company / our company – a place where people work together instead of doing their own thing. Follow Frank @FSonnenberg
Jon Hunter, Curious Cat Improvement Blog brings us Long Term Thinking with Respect for People. Restricting the pull of short-term gains that risk long-term survivability is key to good leadership. Viewing the organization as a system requires evaluating the long-term impact of practices and decisions. Learn more from Jon @curiouscat.
Mike Henry Sr, Lead Change Group, inspires us toward bigger vision in The Value of Vision. There are great benefits and rewards from having a compelling vision of the future. It will pull you through your circumstances, push you to great accomplishments and encourage others to join you in your effort. Follow Mike and learn more about the Lead Change Group @mikehenrysr
Ali Anani shares his presentation, The Cost of Poor Vision on Companies. He articulates the importance of vision as a unifying force, and the dangers when it is missing. Follow Ali @alianani15
Joy and Tom Guthrie, Vizwerx Group, LLC, always spice up the Festival with their great art. Follow Joy @joy_guthrie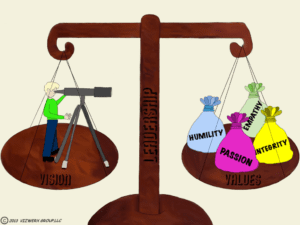 Dan Rockwell, Leadership Freak offers The Seven Qualities of Visionary Leaders. Vision always centers on people never projects, programs, properties, or profits. Vision focused on anything other than people is ego driven exploitation. For more inspiration from Dan @leadershipfreak
Alli Polin, Break the Frame brings us Consider it to be a privilege, not a right: High Value or Cool Tool. As a leader, how do you increase the successful adoption of new technologies and processes? It starts with your vision. Find Alli @AlliPolin
Chery Gegleman, Simply Understanding asks Leaders STAND For Something ~ When Do You Stand. You need to know what you STAND for before you are faced with the situation. Have you considered what you STAND for? Is your STAND written down? Here more from Chery @GianaConsulting
Matt McWilliams, Life. Leadership. Love. Learned the Hard Way brings us Overcommunicate Vision. If you are a leader, your team should know your vision so well that they can recite it first thing in the morning. Here are 7 easy steps to developing, communicating, and drilling home a vision. Find him on twitter @MattMcWilliams2
Jon Mertz, Thin Difference asks the provocative question, Is Vision Still Valid?. Changes happen everywhere, and vision isn't saving us. While visions have just become words, clarity of action and philosophy of leadership may be a better way forward. Learn more from Jon @ThinDifference
Tanveer Naseer, Tanverr Naseer Leadership, shares Encouraging Your Employees To Reach For The Moon. In this piece, I share the story of a janitor at NASA and what it reveals of how we can encourage our employees to take our vision and help make it a reality. Follow Tanveer @TanveerNaseer
Robyn McLeod, Thoughtful Leaders Blog offers ideas and questions for creating the kind of vision statement that can come to life every day in your organization. A Great Vision Propels You Out of Bed. For many organizations, their visions are nothing more than words on posters thumb-tacked to the office bulletin board. Find Robyn @ThoughtfulLdrs
Lynne Bryan Phipps of Inspirited Living shares a story of one leader's vision and journey toward creating a charter school. The Compass School: Lynne Bryan Phipps Creates Lifelong Learners. More from Lynne @InspiritedLife
Kate Nasser, Smart SenseAbilities, brings us Leadership People Skills: Achieve Vision Through Values vs Ultimatums. People skills are the right stuff – not the fluff – of leadership. They respect, honor, and engage all to achieve the org. vision. Here are 3 unsuspecting moments where people skills can fail you and how to fix them. Follow her @KateNasser
Artika Tyner, brings us her post on the Commission for Social Justice Educator's Blog. Planting People, Growing Justice: Training Students to Lead Social Change. The social justice challenges of our time have created a pressing need for strong leaders to take a stand and initiate action. This post offers a two step process for developing one's vision for leadership and building social change. Learn more from Artika @DrArtikaTyner
Call For Submissions
In the spirit of Thanksgiving, November's Frontline Festival is all about Gratitude. Submissions due November 8th. Please submit a post here.