You've been asked to do the impossible. The clock's ticking and there's pressure to perform. Competing priorities complicate the scene. Pushing harder exacerbates stress. Stress leads to inaction. Time to move fast.
The FAST Model
F-Focus
To move results quickly, focus is key. Resist the urge to fix everything. Identify and communicate the biggest priorities and break the work into manageable tasks. Focus on what each team member needs for success.
Communication: Align on 2-3 key leadership messages to share in every context.  Communicate them to the point of obnoxious… then communicate more. Check for understanding. Communicate again. Test it, "what do you think I most want to talk about today? If they don't shout out your priorities, you're not clear.
Activity: Make big work small. It's tempting to build action plans with lots of activity to show you are trying. Less is more. Too much action overwhelms and confuses. Identify 2-3 actions that will make the biggest impact and hit them hard. Reinforce with focused and consistent leadership messaging.
Outliers: Use data to get surgical in your approach. Know the outliers and give them focused recognition and support. Avoid broad-brush interventions. Focus just-in-time actions on those who need them. See Also: How to Break the 80/20 Rule
A-Acknowledge
Slow down early and listen to concerns. Stop to acknowledge progress.
Competing Priorities: New initiatives are almost always piled onto existing workload. Acknowledge conflicting goals and competing priorities. Listen carefully to concerns. Prioritize. Give permission to stop. Some balls must drop. Decide which ones.
Progress: When you're moving fast, don't forget to pause at progress. Acknowledge small wins. Celebrate new behaviors. Recognize breakthrough thinking (see also In Defense of Wow)
S-Stretch
Fast-paced change provides great growth opportunities. Stretch yourself and others.
People: Fast paced change provides stretch opportunities. Provide special projects and stretch assignments. Turn strong players into teachers. Ask everyone what they must do next to achieve.
Boundaries, Assumptions and Rules: Stretch people to try new behaviors. Stretch boundaries, assumptions, and rules. Spend time asking the question, "what have we never tried before…?" Engage unlikely thinkers from outside the team.
T-Think
Go slow enough to think about what you're doing and who you're involving.
Stop stupidity: Every fast-moving project contains elements of stupid (e.g. time wasting tasks, old processes and reports that no longer align with new vision). Empower everyone to say stop as needed. See Also: Give the Guy a Brake and Seth Godin's Basting the Turkey)
Assess and Fine-tune: Carefully measure progress and fine-tune as needed. Watch for unintended consequences. Be ready to change course as needed.
Stakeholder: When moving fast it's easy to exclude. Think about peripheral players that must understand your plan. Slowing down to include the right players early, leads to smoother acceleration.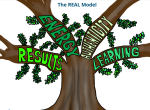 This is the third of three in my series on Results. The first branch of the REAL model. Tomorrow, will return to a regular post. Next week, we'll pick up with the E branch of the model. "Energy." If you're not already subscribed, enter your email, so you don't miss it. As always, thanks to all who are joining the conversation through their comments.