THEY HAVE IDEAS. YOU WANT TO HEAR THEM.
YOUR TEAM MAY BE HOLDING BACK THEIR BEST IDEAS.
Many of today's business leaders genuinely believe they foster an open environment that encourages employees to speak up; yet, they are shocked when they learn that their employees are actually holding back. Leaders may not even realize that their actions could, in fact, be inhibiting innovation.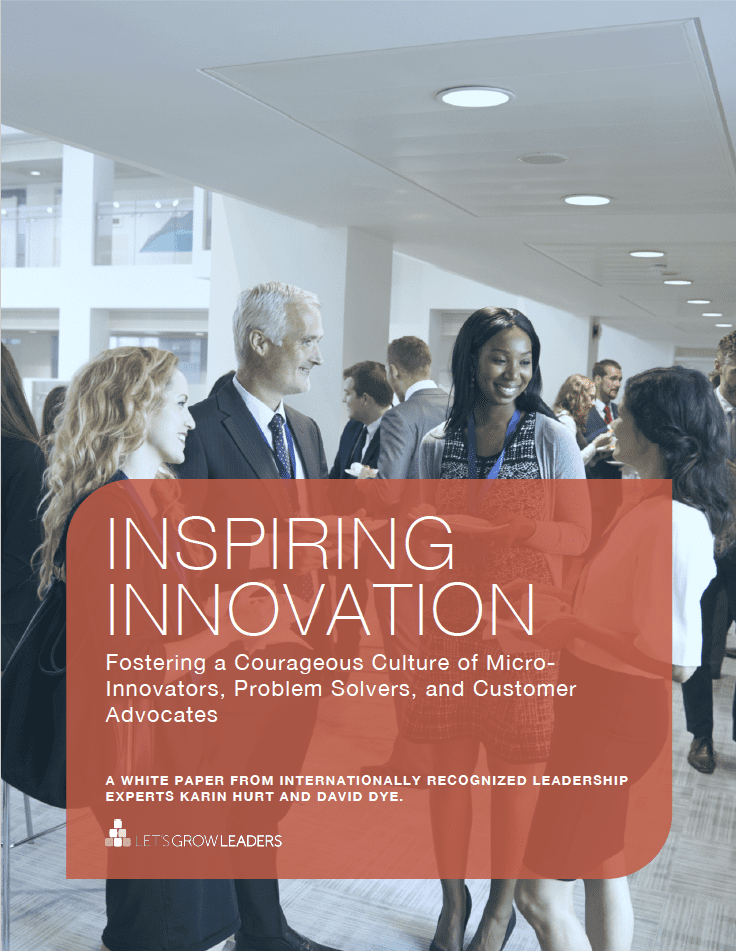 To uncover the real story about the importance of courageous cultures, we conducted research in collaboration with the University of Northern Colorado's Social Research Lab.
We would like to share with you the results of this ground-breaking research! Sign up below, and we will share with you what we have learned in
Inspiring Innovation: Fostering a Courageous Culture of Micro-Innovators, Problem Solvers and Customer Advocates
.
To learn more and to receive Inspiring Innovation, please enter your information below. First Name, Last Name, Company Name, and Email address are required. 
Let's Grow Leaders will also use the information you provide on this form to share weekly leadership insights, including our award winning blog. Please watch for an email from Let's Grow Leaders.
You can change your mind at any time by clicking the unsubscribe link in the footer of any email you receive from us, or by contacting us at
[email protected]
. We will treat your information with respect. For more information about our privacy practices please visit our website. By clicking below, you agree that we may process your information in accordance with these terms.
If you or a colleague are not speaking up because you are afraid of pushback, you are not alone. 67% of respondents said leadership operates on the notion that "this is how we've always done it." This creates a paralyzing effect within companies, and stifles innovation. Learn more in our Inspiring Innovation whitepaper now.

WE NEVER SHARE YOUR INFORMATION WITH ANYONE. YOU MAY OPT OUT AT ANY TIME.