It can feel like a rigged game. Managers face aggressive goals and drive their teams to burnout trying to deliver. Or, employees seek connection and support so managers focus on relationships…and fail to make the numbers. Join international best-selling leadership author David Dye for a conversation about practical leadership tools to help you get results – without losing your soul (or mind) in the process.
Get the tools you need to make a difference while you make the numbers. You'll hear from David, leadership & management thought-leaders, and guests including leaders from a wide variety of industries who are leading well. Tune in today and be the leader you'd want your boss to be.
Ask Your Question or
Nominate a Leader
To ask a question, please leave your name, where you're from, and your question.
To nominate a leader to feature on the show, tell us their name, your name, the best way to reach you, and why you're nominating this person.
Podcast: Play in new window | Download
Subscribe: Apple Podcasts | Android | RSS
Don't allow outdated practices to keep you from motivating and engaging your people. In this interview with Rich Berens, CEO of Root Inc., we explore practical ways you can overcome common leadership blind spots. How do you maintain firm standards for a consistent and safe customer experience while also empowering your team to think and solve problems? How do you make it safe for people to tell the truth?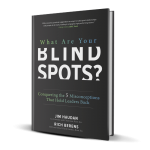 Get answers to these questions and more as we discuss What Are Your Blind Spots? Overcoming the 5 Misconceptions That Hold Leaders Back