Episode 235: If you want to be an effective human-centered leader, you've got to keep learning and growing. In this heartfelt episode, Tim Lupinacci, CEO and Chair of Baker Donaldson Law Firm shares his leadership journey and how you can invest in continuous learning and personal growth. We discuss the value of learning from leaders in different industries and applying their insights to your work.
Tim also shares his experience starting a nonprofit called Everybody Leads, which focuses on empowering individuals and underserved communities with leadership skills. He discusses the importance of diversity and inclusion in the workplace and the need for leaders to prioritize their own well-being and resilience. Tim encourages you to invest in yourself, seek feedback, and be open to making mistakes and learning from them. You'll get practical tools for a leadership journey of continuous growth, resilience, and empathy.
Episode 235: Your Leadership Journey with Tim Lupinacci
05:23 – A Career-Altering Mistake: Hear how one catastrophic project failure led to a critical moment of self-discovery in the leadership journey of a young lawyer.
06:33 – The Power of Belief: Discover how simply believing in someone's leadership capabilities can fuel their confidence to actually take the helm.
06:47 – Fighting the Imposter: Learn how combating the internal voices of self-doubt can help pave the way to become a more effective leader.
07:21 – CEO Confessions: What's it like for a CEO of a big law firm to admit dealing with imposter syndrome? Find out how vulnerability can actually be a strength.
How to Make Room for Your Growth and Development
08:03 – The Leadership Bestseller List: Ever wondered where to start your leadership education? Get recommendations for must-read books from the 90s that are still relevant today.
08:49 – Turn Your Car into a Classroom. How optimizing a daily commute with audio books led to unexpected solutions to work problems. And can further your leadership journey.
09:20 – The Weekly Coffee Chat: How informal weekly discussions about leadership led to an internal culture change in a law firm.
09:40 – Leaders Teaching Leaders: Hear how inviting other firm leaders to share their journeys not only educates the team but also enriches the one who started it.
09:59 – Continued Education. Resources to keep you updated and relevant in your industry.
10:18 – TED Talks and Leadership. Why do industry leaders watch TED Talks, and which ones have made the most impact?
15:30 – The start of Tim's nonprofit – Everybody Leads
21:16 – Why starting with data is crucial for diversity and inclusion in leadership.
21:48 – The light bulb moment that changed the way leaders approach audits and team dynamics.
22:31 – The significance of 'co-owning' in leadership and why you can't afford to ignore it.
22:50 – The delicate balance between being a decisive and collaborative leader in a flat organization.
24:40 – An alarming trend: Why managers are more disengaged than employees for the first time ever.
25:23 – How increased client demands and internal complexities are shaping the future of your leadership journey.
26:20 – The CEO's personal approach to mental health and how it influences leadership.
27:01 – The essential need for in-person meetings in a remote world.
27:54 – Senior leaders' struggles with dual roles and how mini-sabbaticals could be a solution.
Managing Overwhelm
28:51 – Critical advice for those feeling overwhelmed in their leadership roles.
29:34 – The 'daily discipline' that helps the CEO manage his priorities and responsibilities.
30:20 – How adopting the concept of a Sabbath, love for the arts, or other restorative practices can be a game-changer for leaders.
37:17 – The skills and mindset shift to help you move into more strategic, senior leadership.
45:11 – A powerful phrase when making unpopular decisions: "Can you help me better understand your point of view?"
Connect with Tim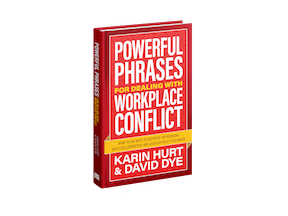 If you'd like more specific, practical phrases and approaches for common sources of workplace conflict, check out our newest book (May 2024 – available for pre-order now): Powerful Phrases for Dealing with Workplace Conflict—What to say next to destress the workplace, build collaboration, and calm difficult customers.