Welcome back to the Let's Grow Leaders Frontline Festival. Our November Festival is all about Dreams and Callings.  Thanks to Joy and Tom Guthrie of Vizwerx Group for the great pic and to all our contributors!
Finding Our Dreams and Callings
"There are those who look at things the way they are and ask, 'Why?' I dream of things that never were and ask, 'Why not?'" – Robert Kennedy
John Hunter of Curious Cat Managment Improvement has discovered the lasting impact of a particular person in his life, and carries on that dream and calling in his own. Follow John. 
Tom Eakin of BoomLife encourages us to make our big idea an experiment and start doing what it takes to rise above the confounding things that distract you from doing what it takes to live your dream. Follow Tom.
Examining Our Dreams and Callings
"The unexamined life is not worth living." – Socrates
What if I told you that most people don't even know what their true dreams are? You may have goals and aspirations, but do you know the things deep down inside that drive you? That's what Matt McWilliams of Mattmcwilliams.com asks us. Follow Matt.
What makes you come alive? Leadership Coach Julie Pierce of Empowered by Pierce helps you take notice and find your leadership passion.   Follow Julie.
Jesse Lyn Stoner of Seapoint Center  shares that if you're not clear about what you really want, you are likely to set goals that will not be truly satisfying once accomplished. If you look below the surface of your dreams, you might find that what you thought you wanted is not exactly what you truly desire. Follow Jesse Lynn.
Susan Mazza of Random Acts of Leadership challenges us that if you want to do even greater things with the rest of your life, there is one critical step you must take. You must CHOOSE. Follow Susan.
Jeff Harmon of Brilliance Within Coaching shares that the most important leadership practice to connect with your calling and the deepest part of yourself is solitude.  This is not only the place where you will meet your calling, but also a source of contentment.  Follow Jeff.
What is your life quest? What will you create and curate? How will you manage conflict? Key questions to answer for your life quest, according to Jon Mertz of Thin Difference. Follow Jon.
As we head into the New Year, use these questions to plan how you will transform your leadership, your workplace and your world. Thanks, Linda Fish Thornton of Leading in Context. Follow Linda.
Lisa Kohn of Thoughtful Leaders Blog presents "It's never too late" where she shares that when we give ourselves time to reflect on what we've always dreamed of, or what would make us our "best selves," we allow ourselves to become who we want to be. Follow Lisa.
In this post, Mike Henry of the Lead Change Group opens up to his readers about how his personal calling has shifted in the past few years and reminds us that, "…our highest calling inflates or inspires us to rise to new heights and achieve great things." Follow Mike.
Overcoming Challenges to Dreams and Callings
"A dream doesn't become reality through magic; it takes sweat, determination and hard work." – Colin Powell
Jeff Miller of the Faithful Pacesetters shares that somewhere along the line we stop dreaming so much…and we start turning into planners.   There's great importance in planning, but constant planning takes us away from unconstrained dreaming. Follow Jeff.
When life gets tough, it's hard to look truth in the eye according to LaRae Quy of Mental Toughness Center. We've all paid a heavy price to get where we are today, and we need mental toughness to keep this important promise to ourselves—that if we keep looking for positive alternatives in our life, we will find them.  Follow LaRae.
Life makes demands of us when we want to achieve something in life.  Here David Brown of Avis and Brown shares his learning from experiences on his journey towards his calling. Follow David.
Alli Polin of Break the Frame says there is one thing standing between this moment and what you most want to create...hard work. Follow Alli.
Sharing Our Dreams and Callings
"A dream you dream alone is a dream. A dream you dream together is reality." – Yoko Ono
Wally Bock of Three Star Leadership reminds us that you can't just persuade people to change. You have to share the dream. Follow Wally.
Tanveer Naseer of Tanveer Naseer Leadership takes a look at how our dreams serve as both the inspiration and drive necessary to fuel our organization's growth and long-term prosperity. Follow Tanveer.
Michelle Pallas of Michelle Pallas, Inc. remind us that as leaders, it's up to us to inspire others to hope; otherwise they never create the dreams that propel them forward. Follow Michelle.
Call for Submissions. January's Frontline Festival is about Confidence. Please send your submissions no later than January 9th. New participants welcome.  Click here to join in!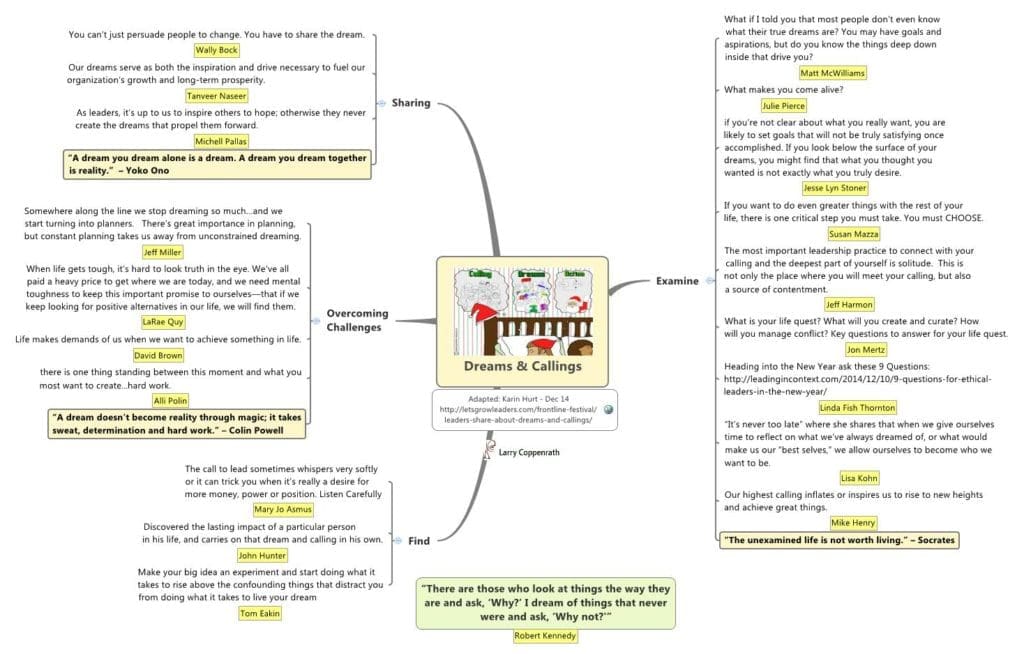 I'm so grateful for to Larry Coppenrath for creating this beautiful visual map of the the thinking in this month's Festival.