Last week was one of THOSE weeks. So much to do. The great, good, bad, and ugly. Pressures mounting on all fronts. Important investments in people, for which there was no short-cut. Business travel and back-to-back meetings. Demanding senior executive reviews and the requisite preparation. Mid year performance write-ups and discussions. A newly selected leader, and vital discussions with disappointed candidates). Preparation for our upcoming Leadership Summit, including an important tradition of writing personal notes in books for each member of the team. And then the unexpected train delays, and "small" LGL frustrations, like my entire site going down due to server issues. No time for exercise. Too much caffeine. Time to move it.
I received a note from an old friend, he asked "when do you sleep?" I responded with some bologna about being on a mission. Bottom line I hadn't slept much. When the alarm went off the next morning, my husband said, (I think affectionately)… wow, honey, you're a machine.).
Of course, I'm not a machine, and Friday night, I collapsed early. Saturday I awoke before 6 to ironically start writing my "energy series." I was staring at the computer, when in all my stuckness, my little guy, Seb, snuggled in and said, "mom, are we going the gym?" We always go to the gym on Saturdays. It's our "routine." Ugh, I didn't know I had this big summit next week, much work to do and NOTHING written on LGL. It's an important week for the REAL model, the Energy front. 5 posts to write on something I believe in deeply and I had a big family day on Sunday with lots of commitments. The summit includes dramatic evening activities, so there would be no time to write then. Something had to go.
We went to the gym. Sometimes you've got to move it, move it.
Move it, Move it
Enter, Michael, my kickboxing instructor. This guy's an energetic cop always over-the-top with excitement. He began, "I really need your help today, I need some support in gaining my usual energy."
I thought, "Seriously, dude? Crap. I don't feel it, you don't feel it"
Okay game on. I smiled, he smiled, we went for it. 87 of us went for it. With in 10 minutes the "move it, move it" left my stress, his stress, our stress dripping on the floor. Something needed to go. We kick-boxed it away. I came home, and wrote 3 posts. The stuckness was gone.
When you're exhausted, the last thing you want to do is "move it." Take time to shake loose the energy. Get the blood flowing. Back away from the situation, and kick something. The ideas will follow.
For anyone who needs some Friday inspiration, our second favorite family song, I like to Move It, Move It .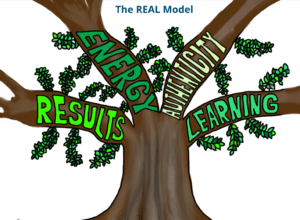 This is the last in our series on Energy, the second branch in the REAL model. Tomorrow we return to our regular fare. Next week, Authenticity. Not yet a subscriber, enter your email address so you never miss a post.