Strategic Storytelling: Build Your Influence With a Memorable Story
Do you want to make your communication captivate and impact your audience at a deeper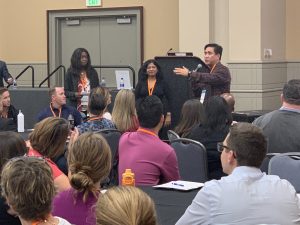 level?
Do you want to include more stories in your leadership messages, but don't know where to start?
Learn our simple, proven S.T.O.R.I.E.S. technique for communicating with impact.
You'll experience easy ways to leverage the power of strategic storytelling to hone your communication, reinforce key messages, and enhance trust and transparency.
You'll leave with a story you can use to improve your influence (and enhanced relationships you can lean on as you continue your journey) because when you tell a good story you're almost guaranteed to build trust and connection.
---
Leading Through Change: Lessons from Improv Comedy
Your success requires new ideas and new ways of thinking – but it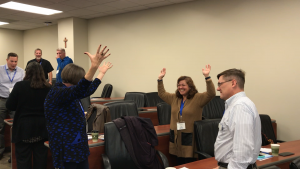 can feel impossible to be creative when faced with the stress and business of daily work.
The good news is that you and your colleagues are more innovative than you know. In this highly interactive lab you'll experience the same tools used by improv comics to cultivate their creativity and in-the-moment humor.
We share these same tools with executive teams, boards of directors, and leaders around the world. You'll laugh, have fun, and walk away with tools you can use to unleash innovation.
---
How Can We? How Great Leaders Foster Innovation and Problem Solving
This deep-dive program pairs well with the Courageous Cultures keynote
What would happen if every member of your team came to work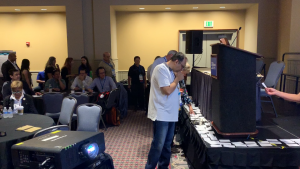 focused on finding solutions and creating better results? Based on groundbreaking new research in innovation and problem solving, you'll learn what leaders like you are doing to build more creative and solutions-oriented teams.
We'll explore the root causes of FOSU (fear of speaking up), ways to show up more courageously yourself, and techniques to your team's fears and frustration into innovation.
Get ready to roll up your sleeves for a hands-on opportunity to share, learn best practices, and experience new tools you can take back to your team and implement right away.
---
Mastering Tough Conversations:  Communicating for Influence and Results
Do you back away from tough conversations?
Do you worry that speaking the truth will damage relationships with your team, boss, and other stakeholders?
Mastering tough conversations is the fastest way to improve your influence and results.
In this highly interactive session, you'll learn the Winning Well model of tough conversations including:
Tools to solve 90% of your conversations before they happen
The I.N.S.P.I.R.E. method of delivering tough feedback
The Confidence/ Competence Model for meeting employees where they are
Owning the U.G.L.Y. How to ask strategic questions that get to the heart of the conversation
---
Build a Powerful and Trusted Personal Brand
 If you Google you, do you like who shows up?
When your name comes up in conversation, what are the first words that come to mind? What are you most known for both inside your company and in your industry?
In this highly interactive session, you'll explore the foundations for building a powerful personal brand and practical approaches and tools to help build your reputation as an influential leader.
Leave this session with a plan you can implement right away – before the conference ends.
---
We've Got This: Communication Techniques to Relax Stakeholders and Delight Your Boss
Do you ever feel you're spending more time keeping your boss and other stakeholders
informed than working on the work?
How do you persuade stakeholders that you're a trusted expert with an important point of view?
When you communicate results, master your story, and address stakeholder concerns before they've even asked, you'll become a more trusted leader, and build a career-enhancing reputation.
In this session, you'll get proven techniques to help you build a dynamic and truthful story, build deeper trust in your approach, and give key stakeholders the data they need to calm the biggest skeptic and cultivate their support.
---
"Asking For a Friend": Workshop Your Toughest Leadership, Influence, and Career Challenges
Are you (or a friend) faced with a tough situation and could use some advice?
Come with your question, and we'll work together to crowd-source the best ways to solve it. Based on the format of Karin Hurt's "Asking For a Friend Vlog," we will create a safe space to anonymously share and workshop your toughest questions.